WKLO DJs and Newspeople
This page updated Thursday, November 25, 2021
On this page we'll list all of the WKLO DJs and news people we know about, plus their current whereabouts. If you can help us flesh out this list or have corrections, please e-mail us. We're constantly updating this page as information comes in...so check back every few days to see how we're progressing.
A B C D E F G H I J K L M N O P Q R S T U V W X Y Z
Keith Adams WKLO DJ circa 1971. Keith writes in October 2021: "Left Louisville in '71 for KATZ in St. Louis. Worked the evening shift and became PD in '73. Moved to Oakland, CA in '75 to program another station. Moved to Atlanta in '78 as National PD for the 7-station Broadcast Enterprise chain. Left radio and moved over to records. Became National Sales Director for Island/DefJam. Now retired and living in Benicia, CA."
Omar Andeel WKLO newsperson in the early-to-mid '60s. Later worked for many years as a morning broadcaster on the Family Radio Network, plus spent many years on TV in San Francisco. Passed away in the 1990s due to colon cancer.
Johnny "Alligator" Argo Mid '60s WKLO nighttime DJ. Previously worked at WPOP in Hartford and KUDL in Kansas City. Later worked at WAKY. Deceased.

Larry Baker WKLO DJ in 1963 and 1964. He had a long successful career as Jerry Baker doing play-by-play for the Indiana Pacers, broadcasting Indiana High School games, and working on the Indy 500 network radio broadcasts.
Larry/Jerry writes on July 28, 2009:
"I've been a member of the Indianapolis Motor Speedway radio network since 1974. In fact, in addition, I've been a member of the broadcast team for all of our coverage of the NASCAR Brickyard 400 and MotoGP events since their inception. NASCAR came on the scene 16 years ago and MotoGP will make its second appearance this August.

"After KLO, spent some time in Cincinnati at WCPO with Shad O'Shea and Mike Gavin, then to WIRE in Indianapolis, WSUN in St. Petersburg, Florida and finally some 16 or so years at WIBC, Indianapolis, either doing morning sports, midday jocking or afternoon drive, before again becoming the television voice for the Indiana Pacers for some eight seasons, following an earlier period of five years of radio and five years of TV with the Pacers when the franchise first came to Indy.

"I am strictly freelancing after a three-year stint behind a desk at the Indiana High School Athletic Association as Sports Information Director. I handle all of the IHSAA's telecasts of their championship events as play-by-play announcer. I will also be doing TV coverage of regular season games for HomeTown Television and Comcast. Still keeping busy.

"Love and miss the WKLO days of radio when I was up against Jumpin' Jack Sanders in afternoon drive. Folks in the biz today have no idea how much fun it was to battle your crosstown rivals for ratings and personal gratification, yet still maintain a friendship with them.

"Love your site. Keep up the great work."
Allen Bryan reports on May 30, 2010:
"I was listening to the start of the Indy 500 radio broadcast and former WKLO DJ (Larry) Jerry Baker is working in the booth this year after many years on one of the turns. He still sounds great."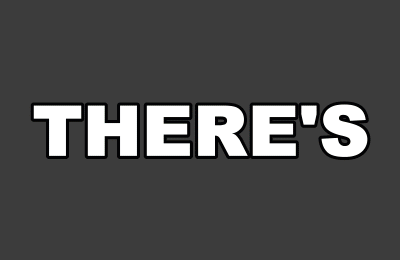 Bill Bailey WKLO morning known as "The Duke of Louisville." Bill joined WKLO in 1965 from Winston-Salem, North Carolina and ruled the AM drivetime there through 1969, when he left to do mornings WLS in Chicago. He returned to Louisville six months later for morning drive at WAKY, where he stayed until 1981. Bill left WAKY for country-formatted WCII (the former WKLO) but returned to WAKY for another stint in 1985 and 1986. After leaving WAKY the second time, Bill did some airwork for Louisville's WTMT. In 1987 former WAKY PD Bob Moody asked Bill to join him at WPOC in Baltimore to team up with Laurie DeYoung for mornings, but after a few months, it was agreed that it wasn't a good fit. Bill retired from radio -- until being coaxed out in 1989 to do PM drive at WVLK-AM in Lexington where he remained until 1994. Bill spent his last years in a Louisville-area nursing home recovering from a 2003 stroke. Up until the end, his mind was still sharp and the old Bill Bailey wit remained. Bill died January 14, 2012 at the age of 81. [Real Name: William Clyde Boahn]
Bill Bailey Obituary
Boahn, William Clyde, "Bill Bailey" "The Duke of Louisville", a prominent Louisville radio personality, passed away peacefully on Saturday, January 14, 2012 at Norton Brownsboro Hospital at the age of 81.

He was born December 18, 1930 in New Bern, NC, the son of the late Jesse A. Boahn and Jessie Ketchum Boahn. For nearly 30 plus years Bill ruled the morning airwaves at WAKY radio and other Louisville radio stations before ending his career in broadcasting in 1994 at WVLK in Lexington.

Bill was an accomplished artist and found Peace through his art. At a very young age Bill developed a love for drawing and painting. You could put anything in front of him and he could draw it or paint it. During his time in Alaska in the Air Force he took up portrait painting and was very talented at outdoor scenery.

He was a loving father and grandfather, with a larger than life personality and a one of a kind sense of humor that he kept until the end.

He is preceded in death by a sister, Jessie Faye Skiles.

He is survived by a son, Erick Boahn; his daughters, Shelly Schultz (Steven) of Boca Raton, Faith Chapman (Shane) and Jennifer Boahn of Louisville; nine grandchildren, to include, Ariana Arroyo, Kayla, Kendall and Grant Chapman; two great-grandchildren and a brother, Charles (Joyce) Boahn of North Carolina.

The family would like to express their sincere gratitude to the staff at Friendship Manor for the love and care they gave for their father.

Funeral Services to honor Bill's life will be held at 6 p.m. Tuesday, January 17th at Pearson-Ratterman Bros. Funeral Home, 12900 Shelbyville Road, Middletown. Visitation will be from 11 a.m. to 6 p.m. at the funeral home.

In lieu of flowers, the family request that contributions be made to Kentucky/Southern Indiana Stroke Association, 3425 Stony Springs Circle, Suite #102, Louisville, KY 40220.


Ted Barbone WKLO morning drive DJ in the early '60s. Did a brief stint as Program Director. Died on July 4, 2015.
Ted Barbone Obituary
Barbone, Theodore M., 79, of Tampa, Florida, beloved Father, Brother, Uncle, Cousin, and friend, entered into eternal rest on Saturday, July 4, 2015. Born in Detroit, Michigan on May 10, 1936, he graduated from St. Bernard High School in Detroit, Michigan in 1954. Ted served in the United States Army as a communications specialist. He embarked on a career in radio and television broadcasting in Michigan, Ohio and Kentucky, then as the announcer and host of the popular "Financial Observer" show for KDNL-TV in St. Louis, MO. He was featured in numerous local and national radio and television shows and commercials and shared with all of us his rich golden voice. Later he was co-owner and General Manager for KQAZ and KRVZ radio stations in Springerville, AZ.

Ted was a devout member of the Catholic Church and served as a lector and in various parish ministries including a Fourth Degree member of the Knights of Columbus. He also was a leader in the Boy Scouts of America, a volunteer at the Straz Center and other community organizations. Ted was blessed with a wonderful sense of humor and was renowned for his many jokes and stories. He always made it a point to find the goodness in people and make them feel special.

Ted is survived by his Son, Michael (Susan) Barbone, of Odessa, Florida; Daughter, Michelle Barbone, of Lutz, Florida; Brother, John Barbone, of Phoenix, Arizona; and a loving family of nieces, nephews and cousins and lifelong friend, Jack Fansher of St. Louis, Missouri. He was preceded in death by his parents, Theodore M. Barbone, Sr. and Helen Barbone; and Sisters, Grace Barbone and Anita Barbone.

Ted will be loved forever and immeasurably missed. His admirable devotion to God, family, and service to others is exemplary and a great tribute to his accomplishments on earth before entering into the arms of God. The family will receive friends at Loyless Funeral Home, 5310 Land O' Lakes Blvd., Land O' Lakes, Florida 34639 on Wednesday, July 15, 2015 from 4:00 P.M. to 8:00 P.M. A funeral mass will be celebrated at Our Lady of the Rosary Catholic Church, 2348 Collier Parkway, Land O' Lakes, Florida 34639 on Thursday, July 16, 2015 at 10:30 A.M. Interment and military honors will follow at Florida National Cemetery in Bushnell, Florida.
Steve Baron WKLO DJ and newsperson in the 1960s. Jocked the overnight show in 1965. Later worked at WAKY. Do you know where he is today?
Jack Bendt WKLO announcer between 1949 and 1958. Left WKLO to go to WTMT when it first went on the air. Deceased.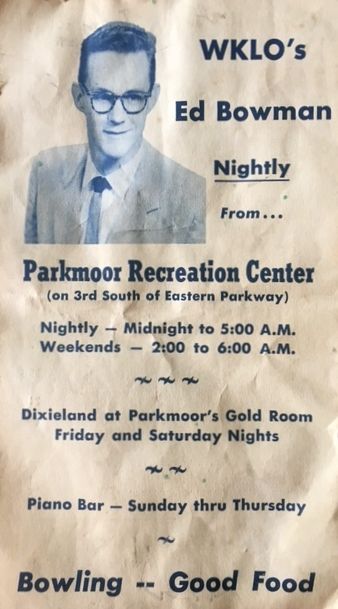 Ed Bowman WKLO overnight and early afternoon jock in the late '50s and early '60s. Used to do remotes from the Parkmoor Recreation Center. Left WKLO to take a job with the Chamber of Commerce in a Southern Indiana town. Ed's son Glenn writes on February 9, 2017: "My Father is Ed Bowman. Still alive and kicking. Following obtaining a law degree from U of L, took job with Muncie Chamber. Then worked for Indiana Chamber of Commerce and then retired as Indiana State Director, National Federation of Independent Business. We look back on the years in Louisville fondly. Jim Fletcher used to babysit me. I met Baron. I remember Dottie. Interesting times."
Bo Brady WKLO DJ in the 1970s. [Real name: Tad Murray] Tad writes: "I was at 'KLO from March (tornado week) 1974 till early-1979. Bullitt County was my home but I was working at KSO, Des Moines before coming to WKLO. After leaving 'KLO I went to WNUU/WRKA." Kentucky Radiomeister Rob Calhoun adds: "Tad also was PD and afternoon drive at WVLK-FM (K-93) for a couple of years in the eighties and at WAMZ before that. Tad (or Bo) was the jock who awarded Johnny Randolph a cash prize, discussed on the 1984 WHAS aircheck. Tad told me he caught hell. He defended himself by telling management Johnny used his real last name and he had no way of knowing who it was. A copy of the WKLO check made out to Johnny was proudly displayed in the WAKY break room for years." Tad was part of the morning show at Lexington's WLAP until April 2009. Check out the Bo Brady Audio Interview. Died of natural causes on September 20, 2021.
Chuck Brady WKLO PM Drive jock 1971-1972. Left WKLO to do AM drive at KRIZ in Phoenix. Chuck writes, "It was one of the best times of my 40-year career." He was known as Jim Brady at WRQN-FM in Toledo, Ohio where he did PM drive as well as handled APD/MD duties until he retired in 2008. Died after a long bout with colorectal cancer on June 5, 2014. [Real name: Jim Felton]
This obituary was penned by Jim Felton's friend Matt Zaleski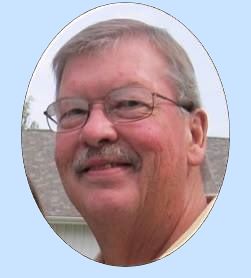 Jim Brady Felton --- a-k-a Jim Brady, Mark Richards, Scott Brady, Chuck Brady, (pick one already) --- legendary radio air personality issued his RSVP to Rock and Roll Heaven on Thursday, June 5, 2014 after a five year battle with cancer. He was 67.

Jim Felton (real name) was born in Toledo, OH on August 21, 1946 to Edward and Eloise Felton. He graduated from Devilbiss High School. While still in high school he saw Fred Mitchell, a longtime Toledo D-J doing a remote radio broadcast from a furniture store. Jim said, "You can make a living doing this?" Fred Mitchell responded, "Yeah, you can do alright." From that point forward a radio broadcasting career was born.

In 1963, Jim Felton started working in radio at the former WTOL Radio, now WCWA, while still in high school. In January 1967 he moved to Ft. Wayne, IN to work at WLYV as Program Director. But a year later, in January 1968, found himself at CKLW, The Big-8 in Windsor, Ontario as Mark Richards. It was a time when powerhouse CLKW was the number one station not only in Windsor, but Detroit, Cleveland, and Toledo. While at CKLW, he had the chance to meet Dr. Martin Luther King, Jr. With Dr. King still in the studio and getting ready to intro a James Brown song, he said on the air, "The REAL soul king is in the studio right now, Dr. Martin Luther King Jr. himself". But the memory was bitter-sweet when a month later, Dr. King was shot and killed in Memphis.

Jim Felton returned to WCWA to work as the morning air personality and program director, but again his talents were called elsewhere. After a brief stint in Montreal, Jim Felton went to WKLO in Louisville, KY in 1971. Then came the big move to Toronto in 1973 where he was given the opportunity to do the morning show at 680 CFTR. It was what would be the signature moment in his career. His "Brady in the Morning" show helped take the station to number one in the market and in the process he became the most listened to radio air personality in Canada.

While at CFTR Toronto, he met Eric Idle of Monty Python fame who appeared on his show and later that same week met up again with Eric Idle and Beatle George Harrison while on a first-class flight to London. In 1977, he was invited to watch the Rolling Stones perform one of the band's legendary surprise club dates at the El Mocambo in downtown Toronto. Jim "Brady" Felton would spend the next 18 years in Canadian radio, working not only in Toronto, but Calgary and Winnipeg as well.

His career would also take him to Los Angeles and Dallas-Ft. Worth before returning to Toledo in 1996 where he worked at WRVF, WCWA, and WRQN. He retired from radio on June 30, 2008 from WRQN.

In his retirement Jim remained active. He became a published author when he co-authored a novel, "Death on the Dial" about a radio murder. He sold real estate and he did free-lance voice work which included radio commercials for The Maritime Academy of Toledo and voiced TV commercials for D. Michael Collins during his mayoral campaign in 2013.

He was also a regular at Sidelines on Laskey Rd. where he loved to meet friends and play trivia. His 17,261,100 trivia points is tops at Sidelines.

He was preceded in death by his parents. He is survived by his wife, Linda, and his twin children, Stephanie and Edward. He is also survived by his former wives Judy Felton and Pat Yancy-Felton.

Family and friends may visit at the Sujkowski Funeral Home of Rossford, 830 Lime City Rd. on Monday, June 9 from 2 to 8 p.m. A Celebration of Life will take place on Tuesday, June 10 at 11 a.m. in the funeral home. Interment will follow at Ft. Meigs Cemetery. The family would like to express a special thank you to the nursing staff at Hospice of Northwest Ohio, especially nurses Tracy, Kathy, and Jenny. Contributions can be directed to Hospice of Northwest Ohio or the American Cancer Society.

Jim "Brady" Felton's final wish is that everyone see their doctor and get a check-up. Jim did not have his first colonoscopy until he was 62-years old. It was at that time his cancer was discovered. As he said in his final interview given to The Toledo Blade --- "I probably could have saved a whole lot of trouble. People have got to wake up and do it. I'm as guilty as the next guy of not checking it out. Get out there and get checked."

Jim Brady Felton ended his shows with a line that came from a time when he was being potty-trained. His mother put him on the toilet and then there was an unexpected phone call. "I sat there for a pretty long time yelling, "'come get me mother, I'm through.'" With that Jim Brady Felton requested that his life end with that line --- "Come get me mother, I'm through!" Hopefully she's still not on the phone.
Dick Braun WKLO midday DJ (circa 1971) from Pittsburgh, Pennsylvania. Also worked at New Orleans' WTIX, Buffalo's WKBW, Cincinnati's WSAI. Louisville's WINN (under the names Dick Wagner and Wretched Richard) and WAMZ. Dick passed away on July 28, 2006 at the age of 77.
Chuck Browning WKLO late-morning jock in 1965. Chuck worked in Philadelphia, Detroit, New York, Los Angeles and San Francisco after WKLO. Deceased. A May 1965 WKLO survey says of Chuck: "Memphis-born and raised. Quite active in theatrical work. Fractures the staff with his comic impersonations. Married and has a small daughter, Laura Denise."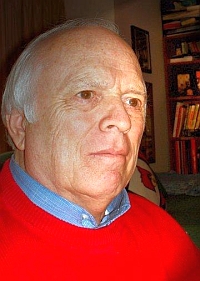 Allen Bryan (2010)
Allen Bryan WKLO jock, newsman and later News Director. He jocked 9 a.m.-12 noon in the early '60s, 7 p.m.-12 midnight between 1964 and 1965, and the Hi-Fi Club in 1961 and in 1964. Allen writes: "During the years I was with WKLO, I started as the 6p-12m newsman, moved to doing afternoon drive news and 9a -12n DJ show at the same time, then to night time teen DJ, then back to news, then appointed news director, worked morning drive doing news with Bill Bailey for a couple of years, then off the air as Sales Marketing Manager, then a dual role and Manager of News and Information which included the news department. I finally left in December of 1973 to go to work for the mayor of Louisville. I never went back to radio after that. In the news department we generally had about 4-5 full-timers and 1-2 part-timers, but at times we had as many as six full-time news people. From 1964 on we always had at least one full-time newsperson on the street, not doing regular newscasts. I'm retired...still living in Louisville. I've been here since 1960 except for my two years in the Army." Check out the Allen Bryan Audio Interview and the Allen Bryan Q & A.

Dave Carson WKLO DJ 1969-1970.
Dave writes on September 15, 2007:
"Stumbled onto your site a while back and really enjoyed navigating my way through all the nostalgia. It was so eerie seeing my name listed, and here I am just down the road in Nashville. Although my time at WKLO was rather brief (fall '69 – late spring '70), my memories of the station and of Louisville are quite vivid. Carl Wigglesworth hired me from WLAV, a Mike Joseph consulted Top 40 operation in Grand Rapids for 10p - 1a Monday -Friday, Mid. - 2am Saturday night (taped), and 2 -7 Sunday afternoon. Shortly after my arrival, Jack Sorbi left for I believe WNDE in Indianapolis and Mike Smith from WAKY replaced him in the 1-3 PM slot. It sounded cool having a two hour shift but as I recall, Mike wound up a slave to the sales department, locked in the production studio cutting and/or carting spots all day.
"I remember letting out a silent groan after entering the control room for the first time and laying eyes on that clunky push-button Gates console that I had suffered while working overnights at country formatted WEXL in Detroit a year or so earlier. At 'KLO I wound up slip cueing the records to ensure fast starts. Technology was decidedly better in the brand new state-of-the-art-recording studio downstairs, outfitted with Scully 280 series 4-track, 2-track and 1-track decks along with a console featuring slide controls. I had never seen anything like it in a radio station. Sadly, all my production duties were carried out in the old studio upstairs.
"Preceding me on the air every evening from 6 to 10 was Carl Strandell who did a big personality show directed at teens with features such as 'Voice Your Choice', and his 'Crystal Ball' predictions. He would also banter with his grunting sidekick 'Muttley the Wonder-Dog.' Carl also had a 1st class ticket and would hang around for meter readings until 'Big' Joe London arrived for his all-night gig. There were many nights when at the end of my shift, Strandell, newsman John Irwin, and I would head out into the night for some beer and conversation. First stop of course, was the Carnival Bar, a somewhat seedy establishment across the street from the station where the waitresses hustled lonely guys for drinks, in the days before the practice was outlawed. They seemed to know the 'KLO crowd and put their efforts elsewhere. As you can imagine, 90% of what we talked about had to do with radio: stations, formats, jocks etc. – where we'd been and where we were going. On and on it went until we wound up at the 'White Swan,' a great workingman's 24 - hour downtown restaurant where we'd each consume a massive T-bone steak, mashed potatoes, veggies and more for about $3.50. Well, coming up on 4 a.m. – time to head home and get to bed. I also recall good times at the 'Office' club on Bardstown Rd. and at Masterson's Restaurant in Old Louisville. Oh – can't forget Lentini's Italian.
"As there were no FM stations programming progressive rock in Louisville, the last hour of my weekday show was dubbed 'Underground' where I dimmed the lights and played album tracks. However, it was difficult to create much of a mood because the station still required that I come out of each song with the WKLO Sonovox stab and typical exit line. However, after receiving an advance acetate of John Lennon's Plastic Ono Band's 'Live Peace in Toronto' concert, I broke this important 'KLO commandment and that landed me in some hot water.
"After WKLO I returned to Grand Rapids working again for WLAV and then WMAX followed by gigs at WTAC and WWCK in Flint. By the mid-seventies I was out of radio save for a brief fill-in at a jazz station in San Francisco. Later while living in Houston, Texas, I finally completed my BA in Journalism at the University of Houston. However, I wound up in ad sales - and print rather than broadcast including five years in LA with the Los Angeles Business Journal. It was while working in sales for Bud Paxson's radio networks here in Nashville back in '95 that I wrote my first book titled Rockin' Down the Dial: The Detroit Sound of Radio, from Jack the Bellboy to the Big 8 (Momentum Books, 2000). It was a narrative history of radio in my hometown from the late 1940s to the early 1970s. Casey Kasem, Dick Purtan, and Bill 'Wild Willy' Hennes wrote jacket notes. Later I spent six years as Associate Publisher of the US edition of Audio Media, a trade publication serving the pro audio recording industry. In 2005, my second book, Grit, Noise, and Revolution: The Birth of Detroit Rock 'n' Roll was published by University of Michigan Press. It won the ARSC 2006 Award for Best Research in Recorded Rock Music. The paperback edition came out in 2006.
"For some strange reason, Louisville, more than any other town I've lived has always held a special fascination. Perhaps because I crammed a whole lot of living into the short time I was there. Even today whenever we're driving through on 65 north, I find myself pointing to the old brownstone Hampton Hall Apartments on York Street near Broadway and for the umpteenth time, announcing to my wife and daughter: 'Hey, over there! That's where I lived, right there on the fourth floor.'"
Ron Chilton Station Manager and announcer on WKLO-FM (which became WCSN).
Ron writes on August 8, 2006:
"WKLO General Manager Ernie Gudridge and I were working on our Master's Degrees at U. of L. in 1973 when he asked me to come to work for him as station manager of WKLO-FM. I was excited to become part of the WKLO family even though FM radio was an unknown entity in those days. Mr. Gudridge divulged his plans for a 'NEW' station and format. Soon after I arrived we changed the call letters to WCSN (in honor of Great Trails owner Charles Sawyer) and contracted with Bonneville to provide us with 'Beautiful Music.'

"For the first few months hardly anyone knew what I was doing there (including myself at times). One morning I overheard Bob Cline ask Bill Love: ' Who is that guy and what the hell does he do here?' I would arrive at 5am at the KLO studios, disappear into the DUNGEON (the WCSN studio was located in the basement), do my morning show, then attend to my managerial duties until 2 p.m. and leave the building...with the ROCK JOCKS aka Bo Brady and Gary Major asking the same question: 'Who is that guy?'

"We did everything we could think of to bolster ratings and make FM a 'viable' frequency. (Who knew what it would become?) We even sold FM converters to auto owners for $9.95 with FREE INSTALLATION. AM radio was still 'the thing' in the mid-70s and WCSN-FM was viewed mostly as an automated monster in the dungeon that needed attention (much to the chagrin of the WKLO jocks) lest it stop working altogether.

"I was offered the position of station manager and chief announcer on WUOL, the new University of Louisville radio station in 1976. I stayed in Public Broadcasting for a couple of years, but longed for the competitiveness of commercial radio and went to work for Sunnyside Communications (WXVW) in 1980 and stayed with that company for almost 20 years (a long GIG in this business). Sunnyside bought WAVG (formerly WAVE radio) in the early '90s and I retired in 1998 while serving at Operations Director and morning DJ on WAVG playing the 'Music of Your Life.'

"I am now partially retired and working as a public speaker for Louisville Technical Institute, a part of Sullivan University in Louisville."
Bill Clark WKLO overnight jock, starting in the third quarter of 1967. Left WKLO in the Fall of 1968 to do the afternoon show at WMMR-FM in Philadelphia. Terrell Metheny says Bill was "the first black guy on a general market radio station in America back before EEO stuff came in." Bill went to Washington DC. Last heard, he was the pool announcer for the radio and TV networks that announce the President of the United States. Do you know where he is today?
This "Personality Profile" appeared in the July 13, 1968 issue of Billboard.
WKLO's Clark: An Integrator
LOUISVILLE - Bill Clark of WKLO, the local Hot 100 format radio station, is an integrator. Not because of ideals, but because he's a good Negro deejay who likes easy listening music and rock 'n' roll equally as well - if not more than - rhythm and blues.

"Mainly, I came into the business without any idea of there being a difference. I never knew what a Negro station was for many years…in Youngstown, Ohio, where I was born and grew up, there wasn't any Negro station," said Clark.

In those early years, he had ideas of becoming a singer. "People said I sounded like Billy Eckstine and Arthur Prysock. But there just wasn't any more room for another Eckstine or Prysock." R&B music had begun to grow popular about this time, "but I couldn't make the transition."

But a trial stint as a deejay gave his direction. From 1954 to 1959, he worked at WFAR in Farrell, Pa. buying and reselling time and presenting r&b and gospel programs. Then he joined WABQ in Cleveland for a year or so before moving on to WCIN as a deejay. In 1965 he went to his real love - a good music show nightly on WPFB in Middletown, Ohio. He also provided color on high school and college football games. In 1966 he joined WKRC in Cincinnati, doing weekend stints and a weekly jazz program on WKRC-FM. Then last October, he shifted to WKLO in Louisville to handle the all-night rock show.
3 Stations
So, he can honestly claim to having integrated three stations. But being the only Negro on an otherwise white station does not signify a denial of his roots "I'm able to be myself, and to be judged on my ability. It is a very comfortable atmosphere in that respect. There are few such stations in the country where that is possible.

"I do feel that Negroes should be given a chance in all kinds of radio," he said. "For the most part, the industry has relegated the black man to the ethnic stations. And, once paying your dues there, no matter how experienced or professional, it's rough, if not impossible to go beyond it. I have great admiration for Negro radio, but I am against the principal…the fact that for most of the industry it is used as a ghetto, an excuse to avoid hiring blacks.
"Crow-Jim Now"
"After being Jim-Crowed, the broadcasting industry will have to Crow-Jim now. Most soul brothers, especially those with a family, can't hit-and-miss around the industry like I have."

He felt that Negroes should be hired at stations "regardless of the format." Clark said the he'd hosted country music shows on occasion, though "we didn't tell the audience. The management and other deejays were astounded that I knew my way around country music. I told them without us Negroes, 'You wouldn't have country music.'"

"One of the men who has helped Clark is Mitch Michaels, who used to be with the station. "He impressed upon me that I am a professional broadcaster who happens to be playing contemporary music. If the music was changed to country, I'd still be a professional broadcast who just happened to be playing country music."
Bob Cline WKLO weekend/swing jock for a large portion of the mid-to-late '70s. Gary Major reports Bob "did every air talent's voice in the city. Don't really know what he sounded like." Bob Cline Audio Interview
Bob Cline writes on June 3, 2005:
"I worked at WKLO beginning in December, 1973. I did (as Gary Major offered) weekends and swing shifts till January, 1975.

"I went back to WKLO in February, 1976, did news on WCSN three nights a week, and did 2 or 3 weekend shifts. Remember those FM stations back then that played 'The World's Most Beautiful Music?' WCSN was one of those (soon to become "THE NEW KJ-100" in 1979). About June, 1976, I did middays in between Lee Gray in the morning and Bo Brady (Tad Murray) in the afternoon. Rusty Rodgers (God bless his soul) did evenings at that time. I was on middays live for about 4 months and then they infiltrated an automation system that eventually was pitched. I eventually did 11p - 2a from about January - August, 1977. At that time I left and went to WLAC in Nashville.

"I returned to the same company (Great Trails Broadcasting) in the Summer, 1980, and worked on KJ-100's AM, which had switched to Country 11. I eventually did afternoons there (with Bill Bailey in the morning for a little over 2 years. The call letters eventually became WCII. The station did well till about 1983, when Coyote and crew [at WAMZ] started kicking ass.

"By the way, I started seriously listening to WAKY and WKLO on Labor Day 1960!
"Today I live in East Louisville and I'm a Alcohol/Drug Counselor for a place called Ten Broeck Hospital. I love it. I quote lines from songs sometimes in group. Some of the other employees know I used to be in radio and tell the patients, who in turn ask me about it. There have been a few that all but freaked out, 'Wow, that was you?' I just say something like, 'Yeah, that was me! And just standing next to me will be added on to your bill.' They love it when we joke around with them.

"My boss asks me why I don't do something with radio these days and I just say something like, 'It ain't what it used to be!' And it isn't. I tune around just hoping to hear some semblance of what radio was in the '60s, '70s, '80s, hell, I'll even take the 90s. I get excited when I hear Dick Clark's 'Rock, Roll & Remember' on WASE in Ft. Knox on Sunday Nights. 'Oh, Dick Baby, keep em, comin'.' I respected the hell out of the guys on WSAI from January, 2003 to January, 2005, for doing what they did. They had fun. I listened to every God blessed word.

"I can remember standing in the studio of WAKY with Jim Brand and Timothy L. Tyler. I think it was in 1964. They did this experiment to see how many people they could fit in the studio, and this friend of mine & I went down to 5th & Jefferson Streets (on the bus mind you), at like 5:30 in the morning. I remember it was wintertime, that's all. It was a blast. Ed Bowman let me 'cue up' The Beach Boys "Surfin' Safari" in the old KLO studios in the Commonwealth Building. It was probably in the Summer of 1962. I floated home.

"See that's what was so fun about it all. We, the people in live radio, 'spinnin' the platters, makin' the chatter,' did all kinds of kind of risky, interesting stuff.
"Oh, by the way, I don't remember the bit about singing along with Paul Simon's 'Kodachrome' on WKLO in '76 or '77, but I don't deny that it happened. I probably did it, knowing me."
Stan Cook WKLO newsman in the mid-to-late '70s. Also worked at WAKY as well as stations in Indiana; Elizabethtown, Kentucky; and Lexington, Kentucky. Now does news for Louisville's NPR News Station, WFPL.
Roy Cooper WKLO PM Drive DJ in 1964. Also worked at WISH in Indianapolis, WPLO in Atlanta, WSAI in Cincinnati, WPOP in Hartford and WIBC in Indianapolis. Now lives in Carmel, Indiana. Roy writes on January 17, 2013: "I am alive and doing well running my investment company; no radio at this time. After managing WIBC, WNAP and WKLR here in Indianapolis for 18 years and the changing environment of broadcasting, it was time to take a break."
Paul Cowley WKLO 6 p.m.-9 p.m. jock from the mid '50s to the early '60s. Previously worked at WLW in Cincinnati and WLEX in Lexington. Hired to replace Beecher Frank. Known for doing Coca-Cola Hi-Fi Club remotes from area high schools. Left WKLO to work for Chicago-based Polaris Broadcasting Company. Last known to live in Santa Fe, New Mexico where he worked in the tourism industry. Died in September 2011. More about Paul Cowley
Jack Crawford WKLO DJ/APD/MD in the early '70s. On January 2, 2001 he became a regional sales executive with AP Radio, based in Los Angeles. Prior to that, he spent seven years with Westwood One, including time as a regional format manager. Before his time at Westwood One, Jack worked in Nashville as the general manager of WGFX-FM. Do you know where he is today?
Paul Crawford WKLO 9 a.m.-12 noon jock in the late '50s and early '60s. Joined the station when it flipped to "Modern Music" in July 1959. Previously worked at KRGV in Weslaco, Texas. Do you know where he is today?
Bill Crisp Morning DJ in 1964 and 1965. Known as "The Emperor." Left for WAKY when Terrell Metheny hired Bill Bailey to be WKLO's morning man. After departing WAKY, Bill became PD and morning man at WLAP in Lexington, Kentucky. He later went to work as News Director and Anchor at WTVQ-TV in Lexington, plus did a morning slot at WKXO in Berea, Kentucky. Bill also co-owned radio stations in Delaware. He retired in 1993. A May 1965 WKLO survey says of Bill: "Fourteen years professional experience. Tennessee native whose father was also in radio. Married and the father of two little Crispies. Enjoys playing, of all things, the flugelhorn!" Died December 6, 2011.
Bill Crisp Legacy.com Obit
MILLSBORO — Bill Crisp passed away Tuesday morning, Dec. 6, 2011, at Atlantic Shores nursing home in Millsboro. He had been in poor health for the last several years.

He had been a resident of Rehoboth Shores, Long Neck, for the last 10 years. He was a member of the American Legion, Millsboro, having served as a radio operator, aboard U.S. naval ships, during the Korean war.

Bill was born in Tennessee, was raised in Lewes, and graduated with the Class of 1952, at Lewes Special School.

He played trumpet in the band, and during the years, played with area bands. Mr. Crisp was involved in radio broadcasting most of his life, working on the air in many large markets around the country. Mr. Crisp was owner and manager of WSUX AM/FM in Seaford during the 70's and 80's, where he lived with his wife, Sandy, and daughter, Lynne.

He is survived by a brother, Don Crisp of Bishopville.

A private memorial service is planned.

Chuck Diamond WKLO DJ who came from Peoria and worked for Robin Walker there. He did late nights in either '74 or early '75. In recent years, he has been in Rockford, IL, at WKMQ, and at WNTA, which he left in January, 2004. Do you know where he is today?
Mason Lee Dixon Late-night DJ for a short time in 1977 or 1978. He worked at WAKY from 1969 to 1972, then left for St. Louis and later, California. When he returned from California, Mason came to work at WKLO. Also worked at Louisville stations WQMF, WRKA, WINN and WTMT. He was last employed at the Holiday Manor BP on US 42 (Brownsboro Road) in Louisville until late 2007. Died September 24, 2020. [Real name: David Bratcher]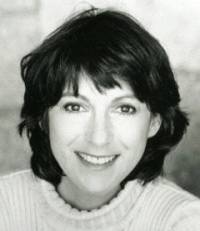 Eileen Douglas Today
Eileen Douglas WKLO anchor/reporter and talk program host/producer (November 1970-June 1974) and News Director (June 1974-February 1976). Left WKLO for New York. She worked in WAKY's news department (September 1970-November 1970) before moving to WKLO. Eileen most recently worked as a correspondent on ABC TV's Lifetime Magazine. Before that she spent nearly 18 years at all-news WINS Radio, where she was the midday anchor for ten years, as well as a reporter, editor and writer. During those years she also worked as a weekend reporter for WNEW-TV, and as a news anchor for the ABC Radio network. While in Louisville, she was also co-host & producer of "NOW," a TV show on WHAS-TV. Today Eileen works in New York City as a partner at Steinman-Douglas Productions.
From a James Doussard Courier-Journal Column (June 1974)
Eileen Douglas has been named news director of WKLO Radio 1080 and WCSN-FM (99.7).
She will supervise and direct a staff of nine newscasters and reporters.
In making the appointment, the stations' president and general manager, E.A. Gudridge, said that, to his knowledge, Ms. Douglas "becomes the only woman now in charge of a separately staffed broadcast news department."
The selection was made, Gudridge said, based on "experience, preparation and journalistic perception."
Ms. Douglas joined WKLO News in November 1970 as a part-time reporter. For the past two years, she has been assignment editor and has produced a public-affairs program called "The News Special" broadcast at 8:30 a.m. Sundays on both stations.
She was graduated magna cum laude from Syracuse University in 1968, earning election to Phi Beta Kappa.
A Syracuse, New York native, Ms. Douglas is married to Jeff Douglas, a WHAS Radio 840 broadcast personality. They have a daughter, Rachel, 3.
She is co-producer with Jeff of WHAS-11's weekly half hour show, "Now."
Before coming to Louisville, Ms. Douglas reported news for FM radio and TV stations in Syracuse and was a reporter and feature writer for The Syracuse Herald-Journal.
Ken Douglas Haberdashery employee-turned-WKLO personality during the British Invasion years. A native Englander, his British accent and knowledge of the Beatles and other English acts took the WKLO airwaves by storm in 1965. He normally was on during the 6 p.m. hour and his segment was initially called "Anglo-Mania." Toured with the Beatles and filed reports on WKLO. Friend of Davy Jones of the Monkees, with whom he went into the haberdashery business in California after leaving Louisville. Worked at WINN and WAKY after he and WKLO parted company. Used to work in the retail clothing business in the Los Angeles area and live in Marina del Ray, California, but later returned to Great Britain. Died November 21, 2016. A May 1965 WKLO survey says of Ken: "Kentuckiana's only live in-person disc jockey hailing from London, England. Has seen many of the top English groups in person. Much in demand for personal appearances." Ken Douglas Audio Interview 1965 Ken Douglas Article
Obituary Published in The Courier-Journal on December 11, 2016
Ken Douglas, of London, England, passed away in England, November 21, 2016.

He was a former disc jockey for WKLO, WAKY, and WINN radio.

Ken lived a very exciting life from working on cruise ships sailing around the world to touring with the Beatles in 1966, and meeting and interviewing many celebrities. Ken worked for the Monkees in Los Angeles and became life long friends with Davy Jones. Ken then became manager of the men's store at Fred Segals in California. After retiring, Ken returned to England to be closer to family and his daughter, Heather.

Ken loved meeting people and making friends. No one was ever a stranger.

He is survived by his daughter, Heather Douglas (Jason Pethers), sister, Audrey Lamb, brother, Terry Douglas (Jean) and many nieces and nephews.

The funeral service will be December 14, 2016 in England.
Jim Dixon Joined WKLO as a DJ in July 1959 when the station changed to a Top 40 format. Previously worked at KSYD in Wichita Falls, Texas. Do you know where he is today?
Tommy Downs WKLO country DJ in the 1950s. Split the overnight shift with Jimmy Lloyd starting in July 1959 when the station changed to a "Modern Music" format. Fern Creek, Kentucky record collector Marty Childress reports that "Tommy Downs died in 1976. He had relocated to Nashville where he owned a recording studio. He also worked as a producer."
Jim Driskill WKLO part-time jock in the early to mid '60s. Do you know where he is today?

John Egan WKLO weekend and overnight DJ between April and October 1975. Previously did PM drive at WLAP in Lexington, Kentucky. Retired from radio after WKLO. Now lives in Orlando, Florida.
Mark Elliot WKLO DJ in the early '70s. [Real name: Rufus C. Hurt]
Mark/Rufus writes on March 13, 2009:
"Stumbled upon your site today! I am one of the creative directors for Bristol Broadcasting in Bristol, Virginia. Been with this company about ten years and will probably remain here as long as they'll have me. I stage a couple of their news/talk stations and consult two of their contemporary morning shows (one here and one in Charleston, W.Va.) Programmed for a while before that at WQUT in Gray, Tennessee.

"Before WKLO I was at WAIR in Winston Salem (not sure what that is now) and before that my first civilian radio job at WBLU (a daytimer) in Salem, Virginia. I was a news person with American Forces radio during the Vietnam war stationed in Thailand prior to the start of my commercial career. I did the radio news to all troops stationed in country from seven to midnight. When I got off the air at midnight I went right to the production studio and practiced being a jock till daybreak then slept all day! I did that for a year.

"After leaving WKLO I worked at WRKO in Boston for about a year then went to WKRQ in Cincinnati to do nights. From there to a stint in Chicago for ABC's FM WDAI (now WLS-FM). I left there to open a production company in Roanoke, Virginia for about five years. I closed that company and answered the radio call again for a 7-midnight gig in New York at a Doubleday station called WAPP. They sold that to Emmis after a while and changed the call letters to WQHT.... Hot 97 I think it was. Kind of an urban/street beat format. I did mornings for them for two years and decided the Big Apple was no place for a country boy and moved here to the Bristol, Tennessee/Virginia area. I've been kicking around here for about twenty years now. I love Tennessee and I love this company.

"My time with WKLO and Bill Hennes was a great experience. I learned a lot from Bill. I learned never to play poker with Lee Gray (or anybody else for that matter!) after losing an entire paycheck one night at his place. Chuck Brady, Big Brother Love and so many others became dear friends and great teachers to me. I was so young and inexperienced.

"Glad I found this site. My memory is not one of my distinguishing assets these days but I do have fond recollections of my time in Louisville."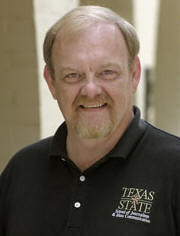 Tim England (August 2006)
Tim England WKLO-WCSN DJ and newsperson in the late '70s.
Tim England writes:
"I worked at WKLO-WCSN from May 1977 to May 1979. Initially, I was a jock for WKLO working weekends and then overnights. During the summer of 1978, I became a weekday announcer (middays) before making the leap to news during the winter of '78, and that's where I remained until May 1979.
"I left Louisville for graduate school at Indiana University in 1979 but continued working in radio news in Bloomington. After earning a master's degree in 1982, I worked briefly at WHAS before leaving for Richmond, Virginia, to work at the Virginia News Network. Three years later, in 1986, I returned to my native state to work as news director of WKYU-FM in Bowling Green and to teach at Western Kentucky University. Then in 1990 I went back to graduate school at the University of Tennessee where I earned a doctorate in 1994. For the past 12 years, I have been a professor at Texas State University in San Marcos, Texas, where I teach Mass Communication and serve as coordinator of the electronic media sequence.
"My first shifts at WKLO were quite memorable. The big news that first night in May 1977 was the Beverly Hills Supper Club fire. Also, there was a shooting that night down the street at Louisville Gardens. So, we had chaos up and down Walnut Street (Muhammad Ali Blvd.) which I observed through the storefront window. For a small town boy from Eighty Eight, KY, life in the big city seemed action packed.
"Another memory that sticks with me is pulling split shifts -- three hours as a rock jock on 'KLO and three hours as a low-key, soft-voiced beautiful music announcer on WCSN. I became quite the coffee drinker just to get through the latter half of my day.
"I worked with some wonderful people at WKLO --
Rip Rinehart
,
Steve Parker
,
Rusty Rodgers
,
Tad Murray
(a.k.a.
Bo Brady
) -- but always lived in fear of aircheck reviews with
Lee Gray
and later
Gary Major.
"Nonetheless, they taught me a lot."

Ed Farron WKLO announcer between 1949 and 1953. [Real name: Edmund Futterman]
Ed Farron writes on February 1, 2006:
"For old times sake I just checked the WKLO 'roster.' The only name I recognized was Beecher Frank; that's because I used to work with him between 1949 and 1953. Does anyone remember the mini music boxes he played on the air back then? He was a very talented, articulate guy!

"In the early 50's we did one of the very early 2-man disc shows: the Farron-Bright Show (Ed Farron and Robin Bright). Does someone know where Robin might be? I also did the Night Shift: a late night record show that followed the Foster Brooks Show. In the mornings, Jimmie Osborne and his little group would get the station rolling. Charlie Farmer did Farm News (surprise!). Mary Lou Moore wrote copy, D.C. Summerfield was the Chief Engineer and Joe Eaton the General Manager. Plus Randy Atcher...big time country player!

"...and I turned down WAVE when they offered me the first TV host spot in town, because they offered 5 bucks a week less than I was making at WKLO! Well, I was young in those days!
"I was reading a couple of letters from guys talking about the 50's. The early 50's was a great period in KLO history. Beecher Frank was certainly a big part of it. And Foster Brooks! He wasn't there long, but made lots of friends while he was around. Then he went on to national fame.

"Jean Clos; News Director. I wonder how many remember him and his 'Clos Look at the News.' He'd come in about 9:45 pm (or later) to do a 15-minute 10:00 o'clock newscast (a bit worse for the wear). He'd rip the news off the machine, put it together in some sort of fashion, and ad lib around the stories...making this his 'Clos Look at the News.'

"In the afternoon, a genial record shop owner on Louisville's main street would do a live, remote 15-minute record show from behind his store-front window. The theme song was Glenn Miller's 'String of Pearls.' Afterwards, the 2-hour Farron-Bright Show...which featured a constant flow of doughnuts, chocolates, ice cream, etc...provided by our sponsors, and wolfed down during the show by the two of us while plugging the contributors. Great fun.

"Someone mentioned Jack Bendt. He arrived at KLO about 1951. I don't know how long he stayed. Jack Everbach (a local boy!) was one of the announcers. It would be great to hear from him. And I wonder if the station is still doing the live Organ Show from the bar of the Henry Clay Hotel. (I doubt it).

"I left WKLO in '53 to go to WBBM, Chicago. Would really enjoy hearing from anyone who recalls that era. Anyone still around?
"I'm retired. The last gig for me was 'Swingin' the Blues' at the local University radio station (KCSN). Did this for a couple of years, on Saturdays, and gave it up a few years ago. Now I'm just a listener."
Jim Fletcher WKLO jock and newsman during the 1960s from Guthrie, Oklahoma. Joined the station in 1960. Formerly program director of KSWO, Lawton, Oklahoma. Later went to work at WAKY. Deceased. A May 1965 WKLO survey says of Jim: "Six year veteran of our Air Force. Hails from Guthrie, Oklahoma. Responsible for much of the production you hear on the air. Member of the Clarksville Little Theatre Board of Directors."
Allen Bryan writes:
"I worked with Jim in Lawton, Oklahoma before we both joined WKLO. Jim came to Louisville first, probably in late 1959, and I followed in May of 1960. He recommended me to Barney Groven.

"Jim was a very quiet and self-contained intelligent guy and was an excellent production person. He loved producing commercials and promos and was an artist with splicing audiotape. He was a DJ, but he preferred production. His most unique quality as a DJ was that you could walk into the control room while he was talking on the air, and you couldn't actually hear what he was saying. He always used a very low volume voice level, and he always sounded great. I finally learned to appreciate his approach and in my later years at WKLO lowered by voice projection level considerably. Jim used to tell me, 'You don't have to shout. That's what the microphone and amplifiers are for.'
"On a personal level, Jim was well read, liked classical music and was active in amateur theatre. Unfortunately we lost touch with each other after he went to WAKY and I went into government."
Joe Fletcher WKLO overnight jock in the early-to-mid 1960s. Also worked at WAKY. Later worked at WAVE/WAVG for many years. Died at the age of 75 on December 23, 2009.
From the Courier-Journal Obituaries (January 4, 2010)
FLETCHER, JOSEPH "JOE" L., 75, this popular retired radio personality passed away December 23, 2009 at Springhurst Health & Rehabilitation after a prolonged illness.

A native of Louisville, Mr. Fletcher was born to Evelyn S. and Leonard Fletcher who preceded him in death.

An alumnus of Male High School, he attended Bellarmine College and served his country in the U.S. Army and was a veteran of the Korean War.

Joe Fletcher's radio and television career spanned from 1960 through 2002. He was a WAVE/WAVG 970 TV and radio personality who received awards for his popular show "The Joe Fletcher Show" by TV Radio Mirror. He was also known to fill in on the weekend weather at WAVE TV-3 and hosted the program High Q. He worked for Louisville radio stations WAKY, WKLO, WINN, WAVE, WAVG, and WKJK - Clear Channel Radio where he retired. Early in his career he worked for WSAC - Ft. Knox, KY and WSLM - Salem, IN. He also worked at WFBC in Greenville, SC.

As a kidney organ recipient, he was a volunteer and friend to KODA as well as the National Kidney Foundation of Kentucky. He was a friend to Seniors Citizens East and lent his talents to many charitable and non-profit organizations. These included Kosair Charities, Ursuline School of Music, the Cerebral Palsy School, Highland VFW Post, J-Town Gaslight Festival, J-Town Band, the Fillies Inc., the Kentucky Derby Festival, and many more.

He loved sports and was the announcer for the Louisville Blades Ice Hockey team. He was the public announcer for Friday Night racing at the old Fairgrounds Motor Speedway. His hobbies included auto racing, history, photography, music, theatre, and bird watching.

He is survived by his daughters Elaine Ann Fletcher Key (Kevin F.) and Jo Lynn Fletcher Farmer (Bill); his grandchildren Thomas Fletcher Farmer and Kirby Lynn Farmer.

He will be missed by his family, friends, and fans, but his beautiful voice will live on in the archives of Louisville radio for generations to come.

The Memorial Service to celebrate his life will be Friday, January 8, 2010, at 10 a.m. at Pearson's, 149 Breckenridge Lane, with burial to follow in Cave Hill cemetery. His visitation will be Thursday, January 7, 2010, 4-8 p.m. Memorial dedication suggested to Kentucky Organ Donor Affiliates, 106 E. Broadway, Louisville, KY 40202.
Tom Foerster WKLO sports reporter in the mid '70s. He subsequently went to work at an ad agency in Louisville. Do you know where he is today?
Beecher Frank WKLO night jock in the mid '50s who played pop music while the rest of the DJs played country (and thus had a large teenaged audience). Left WKLO to work for WGRC (which became WAKY) and was replaced by Paul Cowley. Also did radio in Miami, Florida and Lexington, Kentucky. He died in 1994 in his hometown of Somerset, Kentucky.
Bernice Apte-Plante of Ennis, Montana writes:
"Beecher was my ex-husband's uncle. After he left radio, Beecher took over his mother's business and retired...just dinked around with antiques, etc. His wife Gloria is still living in Somerset. Beecher was a real character, curious about everything and everyone -- and very well read. He was one of my favorite people. He marched to his own drummer!"

Jack Gallo WKLO night jock for about a year in 1964 and 1965. He also did some newscaster duties. Jack previously worked with Bill Crisp, Chuck Browning, and Charlie Fletcher at WKGN in Knoxville, Tennessee. He left WKLO to go to WAVE where he remained for over a decade, and departed WAVE for a two year stint at WMT in Cedar Rapids, Iowa. Jack later did mornings at WAMB in Nashville, Tennessee starting in the early '90s. He left WAMB at the end of 2013. A May 1965 WKLO survey says of Jack: "Handsome and personable with a large following. His position as Music Director keeps him on top of the record business. Another of our airmen who received his radio baptism in Memphis."
Mike Gavin WKLO DJ in the early '60s. After WKLO, Mike was half of the morning team (when that was unheard of) at WCPO 1230 Radio in Cincy (the "Shad & Mike Show"). Prior to 'KLO, he was on the air at WMNI in Columbus, Ohio. Bob Shannon reports in July 2006 that Mike came out of a nine-year retirement to become Sales Manager at Cincinnati oldies outlet WDJO (1160 AM).
Jack Grady Joined the station in July 1959 from KSYD in Wichita Falls, Texas when WKLO switched to Top 40. Left WKLO for WAKY where he worked in the early '60s. After leaving WAKY in 1962, Jack got out of radio and was with Columbia Records and other music business interests in New York and the West Coast. Last known to work as an air personality for the Dallas, Texas-based Citadel Media "Timeless" satellite-delivered adult standards music format, which ceased operation in February 2010.
Lee Gray WKLO jock in 1967-1968, 1970-1973 and 1973-1978. Previous on-air stints included gigs in Albany, Milwaukee, Chicago and Cleveland. Also worked at WMCA in New York City and WBBF in Rochester, New York. He began his career in Germany in the early '60s while in the Army. Worked at WAKY between his second and third stints at WKLO. Enjoyed flying. Became Program Director during his last tour at WKLO. Left WKLO to begin a Christian ministry at KGOL in Houston, Texas. Continued working in Christian radio at in KSBJ in Humble, Texas for the last seven years of his life. Passed away in 1996 in Kingswood, Texas. Lee Gray Courier-Journal Death Notice [Real name: Royce Lee Darling]
Tim England writes: "I was a deejay and program director in Bowling Green before I came to Louisville. My girlfriend graduated from college and got a job in the River City, so I put together a decent resume and tape and headed there to look for a job. I called ahead, and the program directors of WAVE (don't remember his name), WHAS (Jerry David Malloy) and WAKY (Johnny Randolph) were all very gracious and agreed to see me on the same day, but when I called Lee Gray he was very gruff and said 'No, I don't want to see you. I don't want to listen to your aircheck. Don't bother. Heck, I might like you, and I have a full staff. If I liked you, I might have to fire somebody, and I don't want to fire anybody right now.'

"Well, awrighty then. I'll skip that interview, thank you very much. So, I went to Louisville in mid-May 1977 and saw Randolph and Malloy and a couple of others. Then I was about ready to go home and was walking down the street toward my car when, lo and behold, I found myself in front of the storefront studios of WKLO. I thought, 'What the hell, I've got this extra tape and resume. I'll just leave it at the desk.'

"I went in and told the receptionist what I wanted to do, and she said, 'Mr. Gray is here. Do you want to see him?' I said, 'Oh no. I don't want to do that.' And I turned around and left the station and left Louisville. Would you believe he called me the next day and offered me a job? He told me someone on his staff quit the day I showed up. I guess I was at the right place at the right time on that particular day.

"I asked him once why he used the 'stage' name, Lee Gray, and not his real name, Lee Darling. He replied, 'We're in the South, son. You don't go on the air and call yourself "Darling"!!'"

_________________________

Former WKLO and WAKY newsman Reed Yadon, when asked if it was true if Lee Gray was his flight instructor, replied: "Lee did check me out in several different airplanes. I was already licensed, but he did serve as the check-out pilot for retractable GA airplanes and did some work on me on multi-engine aircraft.

"Lee and I used to take friends and fly to Florida for the weekend. Once we went down to Florida and back in the same day just for the heck of it. Lee had to get back to do a Coke Hi-Fi club remote that night. We brought some sand back to prove our trip.

"We landed at O'Hare Airport in a single engine plane at 3 a.m. once. We had left Louisville after our Friday evening shift to spend the weekend in Chicago. On final approach we were spaced between jets and we darn near had to maintain cruise airspeed to keep from getting run over by the jet following us. Also the controller asked if we had the runway in sight and I replied, 'Yes, the one with the lights on' and he replied, 'Sir, we have 18 runways with lights on.'

"Lee was a very good plot and loved his flying. I learned a great deal from him as flying is nothing more than a constant process of learning. He was also helicopter rated.

"Lee was a great guy who died far too young."
WKLO

UPI Wire Report: September 18, 1968

Would-be car thieves might keep this one in mind. Louisville police this afternoon spotted a 1966 blue Corvette Stingray with New York license pates traveling at high speed downtown on Ninth Street. Patrolman Alton Carr immediately telephoned the [police] station to inquire if there was an stolen car report. There was none. But a radio station newsman -- Reed Yadon of WKLO -- was monitoring the police radio...and recognized the description as a car owned by a fellow disc jockey (Lee Gray) then on the air.

It took a few minutes to convince the DJ his car had been taken from his parking spot near the radio station, but Yadon contacted the police. The stolen vehicle was stopped. One youngster ran outside and eluded officers, but the other, a 17-year old Louisville boy, was arrested. All the while the two youths had been listening to the car radio -- tuned to the newsman's account of the theft. A lesson might be: Make sure that car doesn't belong to a disc jockey.
Jon Grey WKLO late-morning jock that joined WKLO in 1967. Native of Owensboro, Kentucky who previously worked in Evansville, Indiana at WROZ as "John Karr". Left WKLO to go to Pittsburgh. [Real name: Jon Fantini]
Jon writes on April 21, 2005:
"I go by the air name Jon Summers and work in television now. I'm with WKBW-TV, Channel 7 in Buffalo, New York.

"I joined WKLO early in the year of 1967; I don't remember whether it was February or March. was only there about a year, but it was one of the most memorable years in my some 47 years in the industry.

"Perhaps the most memorable, but not the most pleasant, was the day one of the major ratings came in and apparently I kicked butt. Mitch Michael, the PD, called me into his office and told me about the ratings. However, instead of congratulating me and telling me "good job," he looked at me and said he just didn't get it, but I must be doing something right. Then he said he was busy and had to get back to work.
"Other than that, I had a great year."
Barney Groven WKLO PD 1959-1962 and in 1964. Barney went to WKLO from KFDA in Amarillo, Texas in 1959 as program director when WKLO changed format to fulltime "modern music" (a.k.a. Top 40) on July 4th. At the time he was married to Dottie Knight (real name: Dottie Unwin) who would eventually do nights at WKLO. (They divorced in 1964.) According to Dottie, "Barney once said he got his start in radio by hanging around a station in his hometown of Piqua, Ohio until they finally gave in let him go on the air. Before WKLO, Barney worked at several radio and television stations including KEPO in El Paso, Texas. After leaving WKLO in 1962, Barney worked in New York City in radio sales. He also worked at KRIZ in Phoenix, Arizona, before his return to WKLO in 1964. [Groven also worked for a while at WOWI in New Albany in 1963-64 when it was doing a Top-40 format.] Sometime in 1965, he worked briefly at WTOD in Toledo, Ohio. In 1965 he was hired to work at WLCY in Tampa, Florida as a newsman using the name J. Paul Robinson. He remained there until sometime in the mid '70s. While employed at WLCY, Barney also worked as a consultant to several radio stations including WKKE in Asheville, North Carolina. After leaving radio, Barney went into business with his second wife, Carlotta." Barney passed away in October 1998 at the age of 62 after a bout with lung cancer.
Fleetwood Gruver III (Yes, that was his real name and air name.) WKLO production director who tried to fill the shoes of Mike Rivers. Fleetwood left Louisville to go to Atlanta. Gary Major says Fleetwood was the "first radio guy I knew that had a BMW." Today Fleetwood is in Orlando, Florida as Operations Manager/Program Director of Cox Broadcasting's WMMO.

Wilson Hatcher WKLO announcer circa the early 1950s until 1959. He left the station right after the format switch in July 1959 and went to WOWI radio in New Albany. He later worked at WLKY-32 and WDRB-41 as an announcer. Deceased.
Jody Hein WKLO newsperson in the mid '70s. Now Jody Puckett, she most recently was Communications Director for James City County, Virginia. She has also worked for Kentucky Educational Television and the York County Public Schools, plus has done freelance video production. As of February 2018, Jody is retired.
Bill Hennes Was WKLO night jock Wild Willy 1966-1967. Later returned to WKLO as Program Director (1971-1973). Left WKLO to be PD of CLKW in Windsor-Detroit. Other stations programmed include WMAQ/WKQX in Chicago, WIFI/Philadelphia, WNHC/New Haven and WNDE/Indianapolis. Became a program consultant in 1981. Bill was the owner and founder of AllAboutCountry.com, an independent news and information web site for country radio and records. He now lives in Pompano Beach, Florida where he is running his own program consulting company, BillHennesMedia.com. He also owns and programs a number of Internet stations (TodaysHottestHits.com). Bill Hennes Audio Interview
Bob "Bones" Henry WKLO newsman and "Director of Special Events" in the 1960s. Retired from WKLO in 1971 He had worked at WKLO for 16 years, and previously at WINN and in Paducah. Got his start in radio in the Army Air Corps in 1941. Became a Kentucky State Representative for the 39th District (Downtown Louisville). [Real Name: Robert Henry Eicher] Died in the Early '90s at the age of 67 in Portsmouth, Ohio.
Beverly Herald The wife of Bill Love, she did news for WKLO and WCSN for about a six-month period in the mid-70s. She and Bill are still married and live in the Evansville, Indiana area.
Montgomery Hogg WKLO DJ around 1970. He was the jock who flipped the Rugbys' 45 from "Stay With Me" to "You, I" and it became a national hit. Based on that, he was offered a gig at SSS International (Shelby Singleton) in Nashville where he produced the first two "Bootleg Top 40" compilations. After that, he moved onto Elektra as National Country Promotion Director signing folks like Eddie Rabbitt. Now lives in Dallas, Texas. [Real Name: Mike Suttle]
Joe Holcomb WKLO morning drive DJ starting in the early '60s. He joined WKLO in 1960 from KWK, St. Louis. He later deejayed at WSIX in Nashville and played Bozo the Clown on WSIX-TV for several years, plus moonlighted as Santa Claus at Harding Mall. Deceased.
Jim Holton WKLO evening DJ for about three months in the '70s. Tim England writes: "Jim and I worked in radio together in Bowling Green (WBGN) and Louisville (WKLO). He then went back to Bowling Green to work as a weatherman for WBKO-TV. After that, he left broadcasting to work for the Bowling Green-Warren County Chamber of Commerce in the late 1980s. Later he became economic development director for neighboring Logan County." Today Jim is a consultant based in Somerset, Kentucky.
Jack Hood WKLO Morning DJ. He had been Assistant PD of WJR (the Great Voice of the Great Lakes) in Detroit. Gary Major says, "I hired him to come in and do mornings. He had been on a station in Flint, Michigan when I was in Saginaw...and I always liked his style. We paid him big bucks for the time. He was a good guy and would have really done well here but he was coming in just before the other shoe fell." Jack also worked at WCEN in Mt. Pleasant, Michigan and WTRX in Flint, Michigan, among other stations. He passed away at the age of 60 in March, 2002.
"Daddy" Dee Humphries WKLO nighttime DJ (6 p.m.-10 p.m.) hired by Lee Gray in the '70s. Dee had been PD at Black-formatted WLOU. Gary Major reports that Dee used to arrive about 6:15 as he had to walk down from the Greyhound bus station six blocks away where he was customer service/counter help during the day. Do you know where he is today?
"Hitman Mac" Hunter WKLO weekend and overnight DJ 1976 through 1979. Worked as a traffic reporter with Metro Traffic in Louisville. He also owns a car shop where he builds and sells sports cars. [Real Name: Lloyd McKinney Hunter]
Dave Hutcheson WKLO's last morning man ("Hutch in the Morning"). Gary Major says Dave "had been doing PM Drive. When Jack Hood decided that he was seeing the other shoe fall...and got out of town...I knew I was in trouble as the PD when Jack called me and said he had returned to Michigan (after working that morning). This happened on my birthday. 'Happy Birthday Gary!'" Today Dave is the morning man of WBTM in Danville, Virginia. (More from Hutch here.)

Chuck Irvin WKLO DJ who joined the station in July 1959 after the format switch to "Modern Music." Previously worked at KFDA in Amarillo, Texas. Do you know where he is today?
John Irwin WKLO newsman in 1969 and 1970. Now is Senior Vice President of Sales & Marketing for Caption Colorado in Greenwood Village, CO. Dave Carson writes: "He came to 'KLO from WERK in his hometown of Muncie, IN. and was the evening news guy from the fall of '69 to fall of '70. In addition he deejayed the all-night show on Sunday night. After WKLO he returned to WERK. The rest is a bit foggy but eventually his career included stints as General Manager of WYNY (NBC's FM in New York) around 1986 and later as GM at WBZ in Boston during the late '80s. After that we we lost track of each other."
John writes on November 13, 2010:
"WOW…what a great website!!! What an undertaking on your part. Congratulations and thanks for doing so.

"Reading Dave Carson and Big Joe London's comments brought back a lot of great memories.
"I was at WKLO from May of 1969 through May of 1970. A 19 year old newscaster in Louisville….I thought I was really hot stuff.

"I was the night-time news guy opposite Carl Strandell and 'Muttley the Wonder Dog', followed by Dave Carson. I was recruited by my friend Big Joe London, whom I had worked with in my hometown, Muncie, Indiana (WERK-AM). Of course, WERK's most famous part-time announcer was another of my mentors, this crazy guy named Dave Letterman.

"Funny memories from that year at 'KLO: Big Joe calling me in the middle of the night with tears in his big voice, telling me I had to come to the station ASAP and cover his show. Joe had just purchased a new car, and because it was the midnight to 6 shift, the cops let him park it on the street directly in front of the street studio, so that he could keep an eye on it.

"Well, Big Joe was monitoring a police chase through downtown Louisville on the newsroom police scanner. Sure enough, the chase ended right in front of our studio with the bad guy plowing his car into Big Joe's new dream-ride, thus Joe's tears and his call to me, 'Get your ass here, right now'.

"Jack Sorbi, mid-day guy, known for the short-fuse, totaling destroying the 'bat phone' after being critiqued while 'on-air'.

"A frustrated Jackson Five fan tossing a brick through the showcase window, when informed several times by Carl Strandell that he couldn't move the requested song up in the rotation. (We had a phone outside on the street for just such requests.)

"Cops hanging out at night in our studio, doing surveillance on the bar across the street, suspected of running prostitutes.

"Every Sunday to Monday overnight I covered for Joe's day off. At 3:30am the buzzer at the door at the rear of the station would sound, meaning the trash pick-up guys had to be let into the building. So, I would have to sprint out of the studio (front of the building) all the way to the back, let the trash guys in, exchange pleasantries, then sprint back to the studio, before the commercial or record ended.

"After leaving KLO in 1970. I returned to my hometown of Muncie and WERK serving over the following 10+ years as News Director, Program Director, Talk-Host, Football Play-by-Play and General Manager.

"I also did a short stint at WLBC AM/FM in Muncie, before joining Group W's, WOWO-AM in Fort Wayne, Indiana, as Assistant PD. I was promoted a year later to station manager. Upon Group W's decision to sell WOWO, I was transferred to Denver, where I had the tremendous pleasure of running KOSI-FM from 1983-1986. We were recognized by author Tom Peters' and the NAB publication (1985), "Lessons From America's Best Run Radio Stations'. 1986-1988, I was GM of WYNY, New York for NBC radio. I returned to Group W in 1988 as GM of WBZ-AM Boston, where we hired this guy named Bergeron to be our morning talent.

"Always wanting to return to Denver, I left 'BZ' in 1992, started my own media consulting business. In Denver and Colorado Springs I worked for both Salem Broadcasting and Focus on the Family, then served as Executive Director of my church and the Denver Chapter of Youth for Christ. In 2003, I jumped back into media full-time, this time on the TV side, accepting my position here at Caption Colorado. We provide real-time closed captioning to the majority of local TV newsrooms across the US, as well as several cable nets. WHAS-TV is one of our customers. Thus, when I chat with personnel there, the memories of KLO flood back into my head."
Jim Ives WKLO overnight jock in 1966. Also worked at WKLO using the name Jim Russell. Later taught broadcasting at Jeffersonville High School. Deceased. [Real name: Jim Reuff]
Quinn Ivy WKLO PM drive DJ in 1961. Allen Bryan writes: "There was a guy named Quinn Ivy who was a DJ and a record producer that was associated with some of the recording that was done in the studios in Muscle Shoals, Alabama starting in the late '60s. I have done a Google search and the majority of the hits are related to the fact that he produced 'When a Man Loves a Woman' by Percy Sledge. I think he is also credited as being one of the writers." Vickie Johnson notes on December 10, 2012: "The Quinn Ivy that was a DJ for a very short amount of time was not the same Quinn Ivy that was a record producer in Muscle Shoals. The one at WKLO had recently come from perhaps Nashville and his real name was Jim Cecil. Where he is today, I have no clue, but it would be interesting to know as, to my recollection, his stay at WKLO was controversial at the time because he was found to be an imposter to the Quinn Ivy name. That said, he was a great DJ and should be recognized for such. He was the first (I think) to close his show with, 'Green lights and blue skies, Mama, come get your baby boy!'" Do you know where he is today?


David James Worked in the WKLO newsroom in 1978 and 1979. [Real name: David Smith]
David writes on July 22, 2005:
"In my freshman year of college I was an intern at WHAS-TV in the fall of 1977. Jess Peterson was News Director at WKLO at the time, and was going to start an internship program there in January 1978. I saw a posting at school, applied and was his first intern! My father, Jim Smith, was an anchor/reporter at WLKY-TV 32 from 1961-69, so I always had an interest in TV and radio.
"After being at WKLO a few weeks, Bernie Thompson allowed Jess to add me to the payroll. I learned a lot back then from Jess and Dave Jacob Straub and Barry Steiger...and became friends with Bo Brady, Rusty Rodgers, Hitman Mac, Tim Hurst, Don St. John, Scott Thompson and others.
"I have fond memories of giving Bo Brady his morning 'wake-up; calls to make sure he'd roll in for his 5am show, late nights downstairs listening to new records, WKLO Pepsi Basketcases ballgames, backstage with Rusty and John Denver at Freedom Hall, Hitman's first ride in his Porsche with the headlights taped in place, Sunday night White Castle runs...the list goes on! I was like a sponge back then, soaking up everything I could from everyone willing to share and teach -- and I am to this day, grateful for all who shared their time and knowledge with me.
"I then worked a series of radio shows in smaller markets, and my last gig in radio ended in 2001 as host of 'Morning Talk with Dave James' at WULF-FM, a 50,000 FM station based in Radcliff, KY, when it was an all-talk formatted station.
"Today, I am in real estate property management and still own and operate a Mobile DJ business (At Your Service DJ's ), begun with my first gig via WKLO back in '78, thanks to Gary Major not wanting the gig! The mirror ball and motor I still use today was purchased for that first paying gig in '78 from the old Ayr-Way store at the former Bashford Manor Mall!
"My wife, Donna and I live in Crestwood, KY. She has three grown daughters and I have a son who is the Sports Editor for a weekly newspaper and a daughter attending EKU. We're going to become grandparents for the first time in October 2006. My, how times flies!
"I'd love to hear from anyone from that era and thank John Quincy for his creation and dedication to this site!"
Jack James WKLO nighttime DJ in 1964. Do you know where he is today?
Michael Jennings On-air personality in the mid '50s. His son Marc writes: "After WKLO, he left radio for a time, then returned to the air on WLIR in the Garden City Hotel, Garden City, Long Island. (Another of the hotel's claims to fame is that Charles Lindbergh stayed there before leaving for
France.) Dad's was a late-night talk show. I was on a few times. After that, Dad left live on-air, but he did make another foray into radio via tape. He created a company called Radio Upstarts. The key program was a nostalgia/history-brought-to-life show called 'Time Was...' Alas, the time wasn't right for it. He moved on to other endeavors, primarily writing and advertising. He died in 1989."
Jim Jensen Newsman in the late '70s. Died October 18, 1999.
Rex Jones WKLO afternoon drive DJ in the early '60s. Worked at KAKC in Tulsa, Oklahoma as PD in the late 1950s. Left WKLO to go to KDEO in San Diego, California and eventually became PD at KLIF in Dallas, Texas in 1963. Died in Dallas in 1998.

Jackson Kane WKLO newsperson who was became News Director at one time. Came to Louisville from Memphis in April 1969 as a DJ at WAKY. He moved to WKLO in December 1969. Kane retired in 2002 after a long career in radio news. He produced a syndicated commentary called "Kane's World" for a number of years. He served in the United States Marine Corps, and fought in the Korean conflict. [Real name: Carl Wigley] Died October 27, 2004.
Sherrie Kendall Newsperson in 1977. Also worked at WAKY. Do you know where she is today?
Tom Kennedy WKLO jock 1972-1974. Started his radio career at WCYN in Cynthiana, Kentucky. Left WKLO to go to do PM drive at WCOL in Columbus, Ohio, also owned by WKLO's parent company, Great Trails. Also worked for WLAP (Lexington), KEEY (Minneapolis) , KZZC (Kansas City), WIL (St. Louis), WALR (Atlanta), WKIS (Miami) and Charleston, South Carolina stations WSUY, WXTC and WJZK. Last employed as Assistant PD and PM Drive host for Citadel Media's Adult Contemporary programming service in Dallas, Texas. [Real name: James Barnes]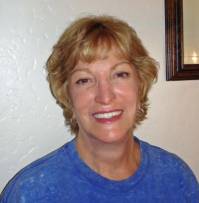 Dottie Knight (April 2007)
Dottie Knight (Groven) Barney Groven's wife; did 9 p.m.-12 midnight from 1959-1961. Native of El Paso, Texas, where she worked at KEPO. Barney and she divorced in 1964. Dottie worked in other on-air radio gigs in Louisiana, Ohio, New York, and New Jersey. Worked several years in the Tampa Bay area of Florida, as Lolita at WLCY and Jackie Lae at WFSO. Retired from broadcasting in the early '70s. She's remarried and spent time in Scottsdale, Arizona where she worked part-time as a respiratory therapist specializing in asthma education. In November 2010 she retired and moved to the Austin, Texas area. [Real name: Dorothy Unwin] Dottie Knight Audio Interview
Ken Knight WKLO newsman for eight years in the 1960s, specializing in courts coverage. Ken was a native of Austin, Minnesota and was in Louisville radio for nearly two decades, working also at WINN and WKYW. He passed away in a Louisville hospital at the age of 47 around 1974 after a long illness. He was unmarried. [Real name: Francis Ververka] Deceased.
Charlie Knox WKLO overnight and late-morning DJ in the mid '60s. Later worked in Denver, Houston, New York and San Francisco using the airname Rick Shaw. Deceased. A May 1965 WKLO survey says of Charlie: "Youngest and tallest member of our Air Force. Possessed with a great voice. Keeps things really swinging through the wee hours of the morning."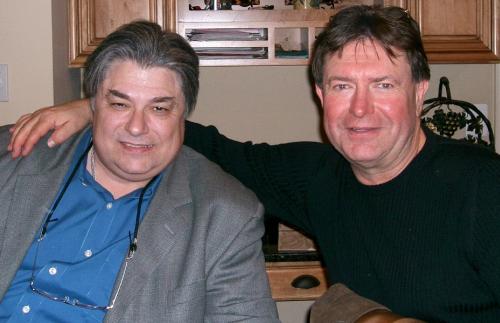 Ron Lake and Dan Mason (November 2007)
Ron Lake WKLO night jock in 1973 and 1974. Previously worked at WLAP in Lexington. After leaving WKLO, Ron jocked at WPOP, Hartford; did PM drive in Philadelphia at WIFI; became PD at WLAV, Grand Rapids; and did afternoons in Nashville at WLAC. He also spent time at Nashville's WMAK and returned to WLAC to PD their News-Talk format. Prior to leaving the radio business in 1996 Ron participated in several industry-related businesses including the AMFM company, the creator of self-liquidating sales promotions for radio. Now lives in Nashville, Tennessee. [Real Name: Jim Hicks] From the "If You First You Don't Succeed" Department: Ron's WKLO Rejection Letter from PD Bill Hennes.
Robert E. Lee WKLO part-time jock for about 6 months in 1975. He programmed WXVW in Jeffersontown in 1972, then moved down to Lexington to do afternoon drive at WVLK. Left WKLO to do nights at WTMA in Charleston, South Carolina, followed by afternoons at cross-town WCSC as Scott Ashley. He later came back to Charleston and worked at WKQB and WKTM. Today he's a Web positioning consultant based out of California. [Real name: Gerry Cunningham]
Shotgun Sam Lee WKLO night jock for 15 months in the mid '70s; last show was June 12, 1975. Gary Major says about Sam: "Mostly Native American...all crazy." Now retired and living in Seattle, Washington. Sam's Website
Sam Lee writes on March 3, 2008:
"Think I got hired by Robin Walker in mid Spring 1974, just before the April ratings were underway. I came up to KLO from putting WCGQ on the air in Columbus, GA. Robin hired me because I was a good bull rider. (That's an in joke since both he and I also rode bucking horses in rodeos from time to time.) I replaced the Rock and Roll Pig, Ron Lake. Danny Mason was in his final few weeks at KLO at the time. Big Bill Love was mornings, Gary Major was trying to do middays, Bo Brady was PM drive then me. After Ron Lake left, Robin hired Chuck Diamond from Cincy.

"Ty Meredith was news director. Mike Rivers was in production. Was there through the summer of 1975 and left to return as PD of KISN in Portland, Oregon. Following KISN I spent several more years on-air and then migrated into sales in radio and TV for about ten years, finally settling in Seattle, WA and owning a broadcast advertising agency until I retired in 2002.

"Photos? Why heck no, I had to get rid of them when I got married. But there are tons of great stories. Stories about Bob Cline. One time I took three or four vacation days to visit Bob at his gig in Paducah. When I arrived in town, he got fired! Or the night on the air when Rusty Rodgers was trying to do a newscast and he was, as usually, murdering every pronunciation in the book. For instance he was talking about Dull-lou Airport in Washington DC. You and I knew it as Dulles. Or he was talking about the Cincinnati Red rooster. Most folks would have said ROSTER. Or the time Rusty got a job in Anchorage. Got married, got a new four-by-four and drove for a solid week to get to the new station. When they got there, the station had been sold and, you guess it, the new owners knew nothing about Rusty's hire. So we sent him gas money and home they came!

"There are a ton of them!"
John Locke WKLO DJ circa 1971. Previously worked at WAKY. Left radio in the early '70s to work in the construction of water towers, which took his life in January of 1974 at the age of 35. Last lived in New Albany, Indiana.
Jimmie Lloyd WKLO country DJ in the 1950s. Split the overnight shift with Tommy Downs starting in July 1959 when the station changed to a "Modern Music" format. Died in October of 2001. [Real Name: Jimmie Logsdon]
10/08/2001 - Jimmy L. Logsdon, 79, Louisville, died Sunday at his daughter's residence. He was born on April 1, 1922 in Panther, KY. The son of a Methodist minister, he began singing in his father's church choir at the age of 12 and first played clarinet at school before changing to guitar. Between 1944 and 1946, he served in the Air Force and on release opened a record shop in LaGrange, KY. By 1948 he was performing locally and received a break in 1950, when he won his own 15-minute country radio show, first on WLOU but later on WINN Louisville. In October 1952, Decca Records heard him singing on his own show and signed him to the label. He was also helped by his friendship with Hank Williams, by whom he was greatly influenced. At times his style was very similar and with whom he toured in 1952. In January 1953, his double-sided tribute release "The Death of Hank Williams'' and "Hank Williams Sings the Blues No More'' gained him considerable acclaim, although it failed to make the national country charts. Jimmy also had one of his songs "I've Got a Rocket in My Pocket'' used in the soundtrack of the movies "The Right Stuff'' and "The Iron Giant.'' Soon afterwards together with his band, the Golden Harvest Boys, he began his live Country & Western Show on WHAS-TV, Louisville, with his sister Martha Jean called the Bargain Ranch, as well as maintaining a country radio show on WKLO. (Courier-Journal Obituary)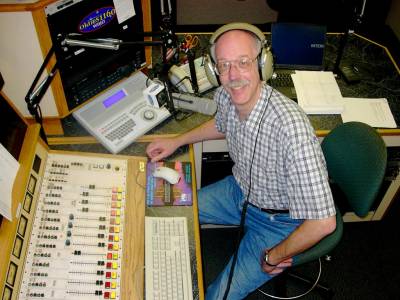 Big Joe London Today
Big Joe London WKLO overnight DJ between 1969 and 1971. In 1971 he joined WRNC in Raleigh, North Carolina as AM Drive DJ, reuniting with former WKLO PD Carl Truman Wiglesworth who was PD there at the time. Joe later became Program Director at WMOH in Hamilton, Ohio from 1973-1980 with WAKY PD Johnny Randolph consulting the station. Joe is currently the Technical Operations Manager at WXIX-TV, Fox 19 in Cincinnati, Ohio, where he's been since 1981. He also did weekend airwork at Oldies 1160 WDJO in Cincinnati. Joe resides in Fairfield, Ohio. [Real Name: Joe Luebbe] Joe was featured in the Louisville's Midnight Cowboys article.
Lee London WKLO DJ circa 1971. Do you know where he is today?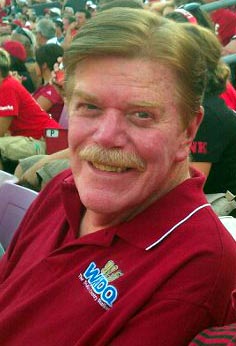 Bill Love in 2011
Bill Love WKLO jock in the first part of the '70s who sometimes went by the name "Brother Love." He's also worked at WBKR in Owensboro, Kentucky; WPOP in Hartford/New Haven; WHK in Cleveland, Ohio; WKGN in Knoxville, Tennessee; WDOD in Chattanooga, Tennessee; WFBC in Greenville/Spartanburg, South Carolina; WHOO in Orlando, Florida; WSLR in Akron, Ohio; and WLAP in Lexington, Kentucky. He was the midday personality at country-formatted WKDQ in Evansville, Indiana between 1992 and October 2009. Bill Love's website [Real name: Bill Herald] 1975 Bill Love Article
Bill writes on March 30, 2005:
"Thanks for starting this website. It's so nice to have some way to capture those memories.
"I was at 'THE BIG 1080' from 1971 thru 1976. I started out doing 6-10 p.m., then 10 a.m-2 p.m. and then three years against 'The Duke' on morning drive.
"As you remember the studios during the '70s were right on Walnut Street and all us single jocks would watch the pretty ladies walk down Walnut on their way to work. I made up a sign that said 'ARE YOU MARRIED?' One particularly attractive young lady nodded 'NO' and we ended up having lunch that day (it was 1974). We'll have lunch again today and also on August 7 when we celebrate our 30th wedding anniversary!"
Bill adds this on November 26, 2011:
"I'm 68 years old now and semi-retired. I do an oldies rock show on Saturdays 6-10AM (hits from 1955-1970) on classic hits WJLT 105.3 here in Evansville ("Saturday morning oldies"). I also do Sunday 6AM-noon on our country station WKDQ 99.5. I'm starting to feel that the "golden age" of rock radio that began about 1957 has ended and lasted about 40 years - or less. The folks that are in the business now don't seem to be having as much fun."
Bob Lyons WKLO DJ; came to WKLO from WINN. (May have gone back to WINN before going on to Cleveland.) [Real name: Bob Hughes] Deceased.
Chuck Lyons Airname of WKLO engineer Pete Boyce who was pressed into service one night as an all-night jock. Here's how Pete tells it: "I was at the WKLO transmitter late one Friday night when Mitch Michael came in and asked if we still had turntables and tape machines at the transmitter site. We did. Mitch had been out doing the 'Coca-Cola Hi-fi Club of the Air' (live dance at local high school). Mitch handed me a box of 45 records from the dance kit and told me I was doing the all night show at midnight. I'm an engineer, not a jock. But in the true spirit of one who does his best -- and since the rest of the jocks were all home with the flu -- and Mitch was coming back in at 6 a.m. to do the morning show...well, Chuck Lyons was born. (My middle initials are C.L.) We had no jingles and no current hits in the dance kit...so I had the 9 to 12 jock feed jingles, liners, the stab and hits down the spare program line to me so I could record them on the Magnacord reel-to-reel recorders at the transmitter. I did the show using the Maggies as spot machines, rewinding and cuing each time I needed them. My then boss, Bruce Clark, came in at 6 a.m. and wondered what was going on. I happen to have an aircheck of that show, made by one of the jocks who taped it at home. It happened a few more times, but not on a regular basis."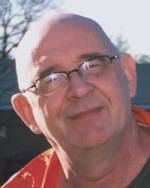 Gary Major (2007)
Gary Major Joined WKLO as the 6-10 p.m. jock in September, 1973, coming from WQRK in Norfolk, Virginia. He was WKLO's PD from January, 1978 until the station became "The New KJ100" in late May of 1979. He still lives in Louisville, where he's the Operations Manager of WJIE's international shortwave station, which broadcasts Christian programming to over 150 countries, plus does data entry at Baptist Hospital. Gary Major Audio Interview
Frank Malone WKLO DJ circa 1963. Do you know where he is today?
Allen Martin WKLO newsperson in the early '70s. Do you know where he is today?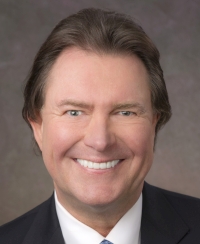 Dan Mason (2015)
Dan Mason WKLO weekend and overnight jock in 1973 and 1974. Native of Louisville and a graduate of Eastern Kentucky University. Previously at WEKY in Richmond, Kentucky and WVLK in Lexington, Kentucky. Left WKLO for WZGC in Atlanta. Later went to WPGC in the Washington, DC market as Program Director. Eventually he got into General Management, and retired as President of Infinity Radio in 2002. After spending a few years consulting, he "un-retired" in 2007 to become President and CEO of CBS Radio where he remained until 2015. (He continues to be an advisor.) Dan was inducted into the National Radio Hall of Fame in November 2015. In January of 2016, he will join the broadcast team at the CBS Sports Network as a play by play announcer for the upcoming basketball season. [Real Name: Danny Ray Masden] Dan Mason Audio Interview
Thanks to Dan Mason for sharing the following CBS RADIO memo with 1080WKLO.com:
From: CBS Radio Corporate Communications
Sent: Mon 3/26/2007 7:27 PM
To: @CBS RADIO - ALL
Subject: Message from Leslie Moonves

I am very pleased to announce the appointment of Dan Mason as President and Chief Executive Officer of CBS RADIO. In this position, Dan will oversee our 144 radio stations across the country, as well as the day-to-day operations of the entire division.

Dan is a well-known and respected leader within the industry and our Company, and his perspectives on how radio can thrive and grow in our highly competitive media world are very exciting. Dan has a keen understanding of the huge potential of our radio operations, and we are very pleased indeed to welcome him back to CBS.

Dan succeeds Joel Hollander, who has stepped down from his position as Chief Executive Officer. Joel joined the Company in that role in 2003 after a long career in the radio business. We appreciate all that he has done for CBS RADIO, and we wish him the best in his future endeavors.

Dan returns to our Company after serving as an adviser and consultant to CBS and other domestic and international companies in the radio broadcasting industry for the past five years. Prior to that, he was President of CBS RADIO from 1995 to 2002. As the executive responsible for operating the group's then 184 stations in the largest markets across the United States, Dan successfully integrated the original CBS, Group W, Infinity Radio and American Radio Systems stations, among the most venerable radio broadcasting groups in the country, by merging operations, blending business styles and increasing profitability. He joined Westinghouse as President of Group W Radio in 1993.

Dan began his career in radio in 1975 at WZGC-FM in Atlanta. In 1977, he moved to WPGC-FM in Washington, D.C., where he was that station's Program Director as well as National Program Director for First Media, the parent company. In 1979, at the age of 27, he was named Vice President/General Manager of KTSA/KTFM in San Antonio. Dan later returned to First Media where he was named Executive Vice President. When First Media became Cook Inlet Radio Partners, he was named that organization's President in 1988.

A native of Louisville, Kentucky, Dan graduated from Eastern Kentucky University with a Bachelor of Science degree in broadcasting, and in 2006 was given an honorary Doctorate of Humanities from that institution. He has two sons and resides in suburban Washington, D.C.

Please join me in welcoming one of the most distinguished executives in the radio business back to our Company.

Leslie Moonves
Tom Maxedon WKLO newsman in the 1960s. He left WKLO for WAKY. Also did news at Lexington's WTVQ-TV and Louisville's WHAS-TV. Entered the ministry in 1986 as a United Methodist pastor. Died in Louisville on April 10, 2012 at the age of 65.
Bob McDonald WKLO newsperson. His daughter Heather writes on March 4, 2021: "He is still living. Before becoming the news director at WKLO, he was the program director at WINN in Louisville. Prior to working in Louisville he was the program director at WVLK in Lexington. He left WKLO IN 1969 to work as a news reporter at WLKY-TV. He left WLKY during the spring of 1978 to become co-publisher (with his wife, Celia McDonald) of The LaRue County Herald News in Hodgenville, Kentucky. He spent the last 10 years of his career working on the staff of two Kentucky governors."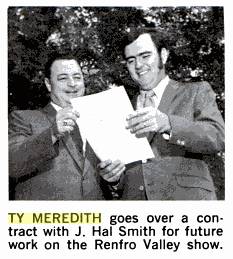 Ty Meredith WKLO newsperson in the early 1970s. He succeeded Allen Bryan as News Director. Ty was the one responsible for bring Lee Gray to the Lord. He left WKLO to work at Z-93 in Atlanta, and is believed to have later worked in Louisville at WFIA. Do you know where he is today?
Mitch Michael WKLO PM drive jock and Program Director between 1964 and 1968. Previously worked at WKDA (Nashville), WOKY (Milwaukee) and WQXI (Atlanta). He left WKLO in early 1968 to become National Program Director of Southern Broadcasting Company. Later he programmed WMCA in New York where one of his DJs was Lee Gray. Now retired in Van Buren, Arkansas and studying for ordination in the Charismatic Episcopal Church. [Real Name: Terrell L. Metheny, Jr.] A May 1965 WKLO survey says of Mitch: "'Mighty Mitch' is recognized as one of the country's top DJs. Serves as our Program Director. As energetic off the air as he is on. Wife, Carolyn, was also quite active in radio." Mitch Michael Audio Interview
Rex Miller WKLO DJ in the early '60s. He worked in at least a dozen markets during the '60s. Rex left radio in 1971 to pursue a writing career, and operated a successful mail-order business dealing in comic, stage, screen, radio, and superhero collectibles. He had a number of horror stories and books published over the years. [Real Name: Rex Miller Spangberg] He died in 2004 at the age of 65.
Rick Morgan WKLO DJ who shared the Hi-fi club with Paul Cowley in the early '60s while Allen Bryan was in the Army. Do you know where he is today?
Julian Mouton WKLO newsperson in the early '70s. Also worked at WRKO in Boston. Passed away in 1995.
Pat Murphy WKLO DJ that started on the all-night show. Later went to WAVE and then on to Kansas City. Deceased.


Duncan O'Day Came to WKLO in late 1959 from WNOE in New Orleans to do 9 a.m. - noon. Replaced PD Barney Groven in that shift, as Groven took himself off the air to concentrate on programming and production. Do you know where he is today?
Jimmie Osborn WKLO country DJ in the 1950s. A native of Winchester, Kentucky, he was a traditional country singer, songwriter, guitarist and disc jockey famous for topical story ballads. He started on radio at WLAP in Lexington, Kentucky in 1939 and moved to KWKH in Shreveport, Louisiana in 1947. Osborn moved to Louisville in 1952, opened a record shop, and hosted a radio show on WKLO. Many of his songs dealt with death; he committed suicide on December 26, 1957.

Steve Parker [Real name: Steve Avery; he got the last part of his airname from Spiderman's alter-ego.] Gary Major says Steve was "most noted for a punching hole in the wall when our weather service refused to update the weather forecast from 'mostly clear' even though we were under a National Weather Service severe thunderstorm warning at the time." Deceased.
Owen Patrick WKLO part-time newsperson; the son of GM Ernie Gudridge; worked while in high school. Today he is a tenured law professor at the University of Miami (Florida). [Real name: Pat Gudridge]
Jess Peterson WKLO newsperson in 1977. Believed to be deceased. George Sucich writes on June 7, 2010: "If this is the same Jess Peterson, he was an excellent morning newscaster on WHO radio in Des Moines, Iowa in the late '80s and early '90s. He was my next door neighbor. I left Des Moines in 1992 and lost track of him. In the late 1990s I heard WHO morning people talk about 'The Jess Peterson Memorial Golf Tournament' which might indicate that he might have passed on."


Johnny Randolph WKLO night jock and Music Director from May 1965 to the latter part of 1966. Joined WAKY on April 1, 1967 where he enjoyed a successful run as Program Director through 1977. In the 1980s he co-owned a station in Danville, Kentucky with the WKLO call letters. Randolph continued to reside in Danville, but commuted to Elizabethtown, Kentucky to work PM drive at the reborn WAKY from 2007 until early 2020. Died July 22, 2020. [Real Name: John Randolph Aspenleiter]

OBITUARY
Johnny R. Aspenleiter "Johnny Randolph", 78, died July 22, 2020 in Danville, Kentucky. John was born in Middletown, Ohio on August 7, 1941, son of the late Clarence John and Dorothy Marie Copsp Aspenleiter. John graduated from the Chattauqua High School in Ohio and earned an Engineering Degree at Miami University of Ohio. John loved studying the history of radio including call letters history, frequencies of stations and everything about the industry. He was a broadcaster and DJ for WAKY radio beginning in the early 60s and became so well-known across the state that he was recognized by strangers as soon as they heard his voice. On April 1, 1967, John joined WAKY as a jock and Assistant Program Director, until 1977. During his years at WAKY, he became a huge fan of Charlie Rich. Charlie's record "Behind Closed Doors", was played on air for the first time by John. The song later appeared on WAKY's top 30 charts. The songs popularity spread from Louisville, selling more than a million copies and turning Charlie Rich into a superstar. He then later co-owned a station in Danville with WKLO call letters. From February 2005 to February 2007 John worked as Director of Programming for Walter May's East Kentucky Broadcasting Group in Pikeville. Later that year John joined WAKY-FM in Elizabethtown to do the PM Drive, a position that he held until 2020. He had a fantastic sense of humor and was a good-humored prankster. When his sister was listening to her favorite songs on her radio in her room as a teenager, he would set his radio to a similar station to interfere with her reception. He loved musicals, dancing and traveling around the world. John was a student of anything and everything and he had a long-time fond love of old diesel Mercedes. He was a member of Southland Christian Church and a volunteer for Heritage Hospice. He is predeceased by his wife of 34 years, Frances Evelyn Aspenleiter and a granddaughter, Jennifer Franklin.

He is survived by three sons and two daughters, Jon Christopher Aspenleiter of Ho Chi Minh City, Vietnam, Cassie (Ed Silver) Hill of Orange Beach, Alabama, Carrie (Thomas) Owen of Danville, Gordon Edward Couch of Louisville and Tim (Patricia) Gulley of Danville; six grandchildren, Christopher (Lori) Tims, Timothy (Lisa) Tims, Michael Tims, Aubrey Lanier, Jr, Lee Gulley and Jonah Couch; one sister, Sharon Aspenleiter (Tim) Maddox and special family friend, Sandy Turner.

The funeral service will be held, 1:00 p.m., Thursday, July 30, 2020 at the Showroom in Danville. Hershel McKinley and Charlie Perry will officiate. Visitation will be after 4 p.m., Wednesday, July 29, 2020 at the Showroom in Danville. Masks and social distancing will be required at The Showroom. Memorial donations are suggested to Heritage Hospice. Our Hugs from Home program and the online guestbook are available at www.stithcares.com
Dale Reeves Overnight jock in the late '60s. He's now PD/afternoons at Gulf Coast Community College outlet WKGC-AM (1480) in Panama City, Florida, plus runs a voiceover business out of his home.
Dale Reeves writes:
"I think it was '66 when I started at WAKY (Jim Brand hired me) and '67 or '68 when I was at WKLO (Terrell Metheny - Mighty Mitch Michaels hired me.) On WKLO, I worked overnight (12 a.m. to 5:30 a.m. Tuesday through Friday mornings and Sunday evenings 7 p.m. to 12 midnight. I think Reed Yadon did the overnight shows starting at 12 midnight on Saturday and Sunday. Bill Hennes (Wild Willy) did 7 p.m. to 12 midnight. Bill Bailey was mornings, Carl Truman Wiglesworth middays and Mighty Mitch did PM drive.
"I just took over as PD/afternoon drive host of the local AM Standards station (WKGC).
"What follows is my favorite memory of working at WKLO:

"While working overnight at WKLO, one of my duties was waking up Bill Bailey with a phone call at 4:30 a.m. Bill would hang up and promptly fall asleep and would usually arrive by 6 a.m., about 30 minutes late. If an hour or 90 minutes went by with no sign of Bill, I would call Metheny and he would drive over to Bill's house to get him to the station by 7:00 or 7:30 a.m.

"One morning Bill's phone was off the hook so when 5:30 rolled around and he didn't show up I decided to do my impression of Bill's voice. I was saying things like "Radio-WKLO Bill Bailey show time: 5:45 in the mornin'. Ladies and gentlemen, this is not the real Duke of Louisville. Just a poor underpaid imitation but I'm sure the Duke will be gracing us with his magnificent presence in mere moments. Stand by Louisville." I loved Bill's use of language and vocabulary so I was having fun improvising in his style. By 6:10 I figured I'd better call Metheny to go roust Bill. At 7:00 a.m., still no Bill or Metheny. So I call again and Metheny answers from his bed again. I asked him about Bill and he says, 'He's on the air, isn't he?'

"Metheny was on his way over to Bill's house earlier when he turned on the radio and heard me doing my bit. Thinking it was Bailey he turned around and went home. By 7:30 Bailey shows up and I am out of the chair and driving home. Bailey comes on after the newscast and asks the newsman Ken Knight how old that kid on the overnight show is. Ken says I think he's 19 or 20 years old. Bailey says: 'You think I should let him make it to 21? (Long Pause) Well, he is a talented young punk so perhaps I should overlook his impertinence. (Big Laugh) Well, good mornin' Louisville, the Duke is here.' (Jingle to Record.)
"Bailey was pissed at me but never let it show on the air. He did his usual brilliant show and was on time for days afterward. "
Jim Reynolds WKLO newsperson in 1964. Do you know where he is today?
Rip Rinehart WKLO midday jock during the late '70s. [Real name: William Rinehart]
Rip Rinehart writes:
"By age 10, I knew that I wanted to be in radio. And since I grew up in the Louisville area, that meant either WAKY or WKLO. In the late '60s WKLO used to sponsor an annual event called 'Other 98 Day,' to honor the '98% of kids you don't hear about' who stay out of trouble. The lucky chosen ones got to be station employees for a day, with the really lucky ones getting to go on the air. I applied in 1968 (at age 13) and was elated when I was selected. Although I didn't get to go on the air, I still got to tour the place and meet my idols.

"After that I got REALLY obsessed with radio and made an utter pest of myself by calling the DJs at all hours and peppering them with questions. Although some of them were understandably annoyed, most were very gracious, and a few went out of their way to be kind. Johnny Randolph, Weird Beard, Carl Truman Wigglesworth, and Ed Walker come to mind in the latter category as being especially encouraging and helpful.

"My first paying job was at WIEL in Elizabethtown, KY. I did some freeform FM on the side at WSAC-FM in Fort Knox before landing at WAVE in Louisville. I was about to move from evenings to middays at WAVE, but instead I got canned, for the first and last time ever. (I guess everybody should go through it at least once.) Within a few weeks I ended up at WKLO and a lifelong dream was finally fulfilled.

"By then the great Top 40 era was over. WAKY and WKLO were both struggling to find new identities and FM was moving toward dominance. WKLO was experimenting with an odd format that involved doing call-out research on oldies and placing the ones that tested well in hot rotation. Thus we ended up playing the Beatles' 'Yesterday,' among other well-worn titles, every three hours. And this was in 1978, eight years after they broke up. Fortunately, that experiment didn't last, and we evolved into a quite respectable full service operation. It wasn't the awesome Top 40 powerhouse of the 60s and early 70s, but it seemed like the station had gracefully eased itself into a successful middle age.

"I stayed busy in those days. In middays I was Rip Rinehart on WKLO, and in the mornings I was Eric Henderson, downstairs on sister station WCSN-FM, doing live drop-ins (and trying to stay awake) on what was otherwise a fully automated 'beautiful music' outlet. In between I did everything from production to winding carts with fresh tape.

"Of course, this is radio we're talking about here, and nothing lasts forever. By the following year WKLO/WCSN was a memory. The FM became WKJJ (KJ-100), and the AM became little more than something that had to be kept on the air. By then I was bored with reading liners and weather forecasts and got more into production, eventually becoming Production Director. KJ-100 did well on FM and eventually what used to be WKLO-AM became WCII, 'Country 11.' Around 1981 WCII hired the legendary Bill Bailey away from WAKY and I had the honor of working with him for several months before I left for Phoenix.

"In Phoenix I worked at KDKB and did freelance voiceover work; went back to school and got a Bachelors Degree in Electrical Engineering; have worked in engineering ever since in Phoenix, San Diego, Austin, and now work from home here in Shelbyville, KY as a software consultant for Avaya Communications."
Al Risen WKLO jock in the late '60s. Also labored at Louisville's WAKY, WINN, WKRX (now WVEZ) and WXVW, as well as Lexington's WLAP. Left Louisville in the mid-70s to work at WKDA in Nashville, and later WSM, where he syndicated a country music show. Also worked at country-formatted WELE in Ormond Beach, Florida in the '80s. Later spent many years working for the Post Office in Edgewater, Florida. Died in New Smyrna Beach, Florida on April 18, 2009 at the age of 65. [Real name: Albert H. Risen, Jr.]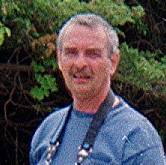 Jim Rivers (2002)
Jim Rivers WKLO PM Drive jock in 1970 and 1971. Jim also worked at WIBG in Philadelphia, PA; WSAI in Cincinnati, WCOL in Columbus, OH; WBBF in Rochester, NY; WBLG in Lexington, KY (where he hired your curator to do nights in 1977); and WLAN in Lancaster, PA. In the late '70s he joined the University of Kentucky where one of his duties was to host agriculture radio programs that aired across the state. In the mid-80s he got into the field of academia, teaching at Illinois State University in Normal, Illinois in the late '80s while working part-time at WJBC in Bloomington, Illinois. Jim eventually became a professor in the College of Business and Management at Northeastern Illinois University. He retired in July 2005 and moved to the Atlanta area. In 2008 he "temporarily un-retired" and began teaching at the University of West Georgia. Jim passed away August 1, 2009 of undisclosed causes. [Real Name: James Ezra Hazeltine III]
Jim Rivers writes:
"Well-done WKLO site! My couple of years at KLO are among my most pleasant memories; I'm grateful that you've brought them alive again. Regrettably, I have no airchecks or any other kinds of souvenirs from that era (1970-71) - it's been too long and, as your bio correctly notes, I changed careers in the mid-80s. For what it's worth, I'm now retired, and moved from Chicago to Atlanta in July '05.
"I did PM drive at KLO from about September 1970 to October 1971, when Brother Love (a peach of a guy, by the way) moved into that slot from early evenings. Before then, I worked the late night gig on KLO, commuting as a soldier from Fort Knox. The Courier-Journal did a piece about that during the summer of 1970.

"Carl Truman Wiglesworth was always one of my favorite people, even though I've had no contact with him since the '70s. And I've also retained a great respect for Ernie Gudridge, a very intelligent and very human manager. Ernie was one of the few GMs who let his PD run the programming function fairly autonomously. Ernie did not micro-manage.

"As you're probably aware, in the early 1970s WKLO and WAKY were fierce competitors for ratings and share, but the DJs at both stations knew each other off-air, and sometimes socialized. Gary Burbank (Bill Purser) dated my next-door neighbor for a time, and John Randolph was instrumental in my move from WKLO to WBBF in Rochester, NY (WBBF was a sister station to WAKY, as was WFIL, Philadelphia). Lee Gray also briefly worked at WBBF in 1973.

"One quick additional piece of bio that you can do with as you wish: Dick Braun, who did KLO mid-days ca. 1970, came there in the mid-sixties from WSAI, Cincinnati, where he was known as Dick Wagner. He couldn't use his real name (Braun) in Cincy because of the prominence there at that time of Bob Braun on WLW Radio and WLWT television. Bob Braun, by the way, worked with Nick Clooney at WLWT. Nick was Rosemary's brother and George's father (yes, that George Clooney)."

"Something I've always been proud of regarding WKLO was its annual participation in the Marine Corps' Toys for Tots drive. KLO put on a yearly live concert at Christmastime in Freedom Hall. The admission price was a new toy."
From Jim's HightowersMemorial.com Online Obit in August 2009:
Biography: James Ezra Hazeltine III
James Ezra Hazeltine III, 67, of Douglasville, passed away Saturday, August 01, 2009. He was born October 16, 1941 in Lancaster, Pennsylvania to the late Glenna and James Hazeltine II.

He was a Veteran of the United States Army. He received Professor Emeritus Status from Northeastern Illinois University. He was currently employed as a marketing professor at the State University of West Georgia. He attended both Ebenezer Baptist Church and First Presbyterian Church of Douglasville.

He is survived by his wife, Sandra Lynn Hazeltine of Douglasville and his sisters: Rachel Gawn and Glenna May Hazeltine of Pennsylvania.

Funeral services will be conducted Tuesday, August 4, at 11:00 am from Hightower's Memorial Chapel in Douglasville with Reverend Jeff Childers officiating.

The family will receive friends Monday, August 3, from 6 until 9 pm at the funeral home.

Hightower's Memorial Chapel of Douglasville has charge of arrangements. 770-489-2818
---
From 440 Satisfaction:
IN MEMORIAM: JIM HAZELTINE:
By his sisters, Glenna Hazeltine and Rachel Gawn:
James E. Hazeltine, III, formerly of Lancaster, died August 1, 2009, in Atlanta, Georgia. Born in Lancaster October 16, 1941, Jim was the son of the late Glenna May and James E, Hazeltine, Jr., of Lancaster.

Jim attended the Lancaster public schools, graduated from The Hill School, Pottstown, PA, and from Franklin and Marshall College, where he was a member of the Delta Sigma Phi fraternity, and he matriculated at the Wharton School of the University of Pennsylvania. Following military service, Jim enrolled in the University of Kentucky to complete the MBA begun at Wharton and went on to earn a doctorate.

Jim's two loves were education and radio. Jim began his radio career while at Franklin & Marshall as a disc jockey and station manager at WLAN in Lancaster, and later worked as a dj at WIBG in Philadelphia, where he became known on-air as Jim Rivers. Jim went on to work at radio stations in Columbus, Cincinnati, Louisville, Rochester and Lexington.

Following his radio career, Jim spent twenty years in higher education as a professor, beginning at Illinois State University and from there to become associate dean in the business college of Northeastern Illinois University in Chicago. Jim retired as Professor Emeritus from Northeastern and at the time of his death was employed as professor at the State University of West Georgia.

Jim is survived by his wife Sandra Lynn Hazeltine of Atlanta; sisters Glenna Hazeltine of Philadelphia and Rachel Gawn of Lancaster; and by nephews and nieces Jenn and Jim Hazeltine of Guatemala; Kristin and R.J. Hazeltine-Shedd of Houston, Texas; and Sarah and Alexander Gawn of Lancaster.

Funeral services were held August 4, 2009 in Atlanta, Georgia. Memorials may be sent to Franklin and Marshall College.
Mike Rivers WKLO jock and Production Director in the early '70s. Passed away September 13, 2004 in Nashville, Tennessee. [Real Name: Ralph W. Wright, Jr.]
Bob Robbin WKLO DJ in 1961 and 1962. Worked at WHB in Kansas City before coming to Louisville. Left WKLO when he bought a small motel in the Daytona Beach, Florida area. Bob sold the hotel in 1964 and moved to Nashville, Tennessee. [Real name: Robert Sticht] Died January 11, 2012.
Published in The Tennessean on January 12, 2012:
STICHT, Robert (Bob) Thomas Age 83 of Nashville, passed away January 11, 2012. He was born in Noxapater, MS to the late Frank Sticht and Nannye Pearl Davis Sticht. He was stationed at Cherry Point, NC while serving in the US Marine Corps. After the military, Bob began his broadcasting career, where he helped pioneer "Rock 'N Roll" radio in the early sixties. At WHB in Kansas City, MO, his on-air name was "Bob Robbin". He then worked as station announcer in Memphis, Louisville and New Orleans before becoming a renowned on-air personality in Nashville at stations WLAC, WSIX, and WAMB. In addition to his work on many radio stations, Bob had a syndicated radio show, "The All Time Greats Parade", co-hosting with the late Snooky Lanson. After a brief stint as owner of Station WSVT in Smyrna, TN, he returned to WAMB until his retirement in 2007. He is preceded in death by his wife, Jean Sticht; and two brothers, Frank Davis Sticht and Walter Fred Sticht. He is survived by his longtime companion, Helen Mitchell; nephews, Mike Sticht of Bolivar, TN and Don Sticht of Bartlett, TN; nieces, Rebecca Sticht Hayes and Elizabeth Lee; and longtime friend, Jim Gilmore. Visitation will be held Friday, January 13th at Brentwood United Methodist Church, from 12 p.m. until the 2 p.m. funeral service. The Reverend Dr. Jeffrey Wilson will officiate. Burial will follow in Mount Olivet Cemetery. In lieu of flowers, the family requests donations may be made to Willowbrook Hospice, 318 Riverside Drive, Franklin, TN 37064; or to Brentwood United Methodist Church, 309 Franklin Road, Brentwood, TN 37027. MOUNT OLIVET FUNERAL HOME, (615) 255-4193.
J. Paul Roberts Newsman between January 1967 and November 1968. Previously worked at WIEL in Elizabethtown, Kentucky and WVLK in Lexington, Kentucky. Native of Pottstown, Pennsylvania. Left WKLO to do news at WIBG in Philadelphia. Went into Philly TV before coming back to Kentucky as PD of WQXE in Elizabethtown. Later gigs included starting up All News WWTC in Minneapolis, becoming PD of WDRC in Hartford, and assuming the Operations Director duties at WIKI in Madison, Indiana. Last Owner, General Manager and Morning Drive Jock at WKID in Vevay, Indiana. Died April 10, 2012. [Real name: Kenneth R. Trimble]
LYTLE FUNERAL CHAPEL ONLINE OBITUARY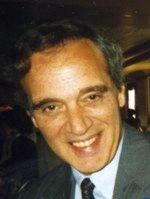 Kenneth R. Trimble, 69, of Madison, Indiana, passed away Tuesday, April 10, 2012 at King's Daughters' Hospital in Madison . He was born Sunday, February 7, 1943 in Washington, D.C., the son of Robert and Elizabeth (Koury) Trimble.

Ken was currently the vice president and general manager for radio station WKID 95.9 in Vevay, Indiana where he had served for twelve years. He started his radio career at WIEL AM and WKMO FM in Elizabethtown, Kentucky, while serving in the US Army in the 1960's. He returned to those stations as president and general manager in the 1980's. During his career, he also worked for radio stations in Louisville, Philadelphia, Minneapolis, Hartford, CT, and Madison.

Survivors include his wife, Patty (Crosby) Trimble, whom he married on Monday, December 23, 1996; a daughter: Teresa McCammon, Louisville, KY; a son: Todd Trimble, Louisville, KY; a brother: Richard Trimble, PA; 2 grandsons; and two step-children: Bryan Tinsley and Tish Geftos. He was preceded in death by his parents.

Family and friends may call from 1:00 until 4:00 PM Sunday April 15, 2012 at the Lytle Funeral Chapel, 423 West Main Street, Madison.

The family requests expressions of sympathy take the form of contributions to the American Cancer Society. Memorial envelopes are available at the funeral home.
Todd Roberts WKLO DJ in the early '70s. Do you know where he is today?
John Rode WKLO overnight DJ in the Summer of 1965. Also worked at WINN, WSAI, WRKO, WDRC, WIBG, CHUM, CFUN, CKFH, and CKEY. Other stations Today John is Senior Vice-president and Chief Information Officer of Mediastats Inc., and MediaLAB, in Toronto, Ontario.
Rusty Rodgers Evening jock 1976-1977 (did the "WKLO Love Line"). PM Drive DJ 1977-1979 before going over to WAKY for a short time in 1979. Before his death on May 14, 2005 at the age of 50, Rusty worked as a director for WKLY-TV in Louisville. [Real name: Eugene Rodgers III]
Byron Rohrig Newsman 1969-1970. Later did news at WAKY using the name "Byron Thomas" from late 1973 through early 1974. Other radio news gigs included WORX in Madison, Indiana plus WLRS in Louisville (as "Cy Atkins"). He bounced back and forth between radio and print news (including stints at the former Bloomington Herald Telephone) and worked as a reporter for the Evansville (Indiana) Courier & Press from 1991 to 2007, when he took early retirement. He now has returned to radio part time in the news department of 104.1 WIKY in Evansville. He also works as a substitute school bus driver, hoping to become a regular in the fall of '08, and is a part-time musician and songwriter with one CD, "The White Disc", under his belt. [Real name: Byron Lee Rohrig.]
Ken Rowland Started at WKLO in 1958 as News Director. He left WKLO in 1964 to go to WLKY-TV as News Director and Anchor. In 1970 he went to WHAS-TV as News Anchor. In the late '70s Ken returned to WLKY-TV as an anchor. He left WLKY-TV in 1986 to become Director of Research at Linker Capital Management, as a stock analyst. He also worked part time as a business reporter on WDRB-TV. Ken Rowland was inducted into the Kentucky Journalism Hall of Fame in 1997. Later worked for Linker Capital Management in Louisville. Died November 27, 2017 at the age of 91.
Jim Russell WKLO overnight DJ in early 1965. Also worked at WKLO using the name Jim Ives. Later taught broadcasting at Jeffersonville High School. Deceased. [Real name: Jim Reuff]

Big Deal Don Schaffer WKLO morning man beginning in July of 1978. Last known to be in Florida. Do you know where he is today?
Jim Schneider Overnight jock that joined WKLO in the summer of 1967 at the age of 18. Native of Ashland, Kentucky. Nicknamed "The Flying Dutchman." Left WKLO for West Virginia. Deceased.
Terry Hapney writes:
"I worked with Jim Schneider, a.k.a. "The Flying Dutchman" during the summer of 1991 at WIRO in Ironton, Ohio. He spent many years prior to that at 103.3 WTCR/1420 WTCR in Catlettsburg, KY (Huntington, West Virginia/Ashland, Kentucky/Ironton, Ohio radio market). WTCR is the number one-rated radio station in this market and has been for many years. The numbers were huge when Dutch was there as Program Director and morning air personality (30+ shares).
"Dutch left WTCR around 1990 or so and was part owner in WIRO in Ironton, Ohio. He and his wife, Mona, worked at the station. While I only worked with him for a brief period of time, his legacy will be in my memory and a part of who I am for the rest of my life. The man was amazing in a production room. And he was very talented when it came to doing a morning drive show.
"Dutch passed away in 1992. I believe he was in his mid-to-late-40s."
Michael Scott WKLO newsman in 1974 and 1975. Left WKLO for WLCY in Tampa-St. Petersburg. Returned to Louisville for a job at WAKY as Bill Graham between 1976 and 1981, first as newsman, then as News Director, replacing Reed Yadon. [Real name: John "Mike" Wascher] Mike writes: "After leaving WAKY I went to Cincinnati, Baton Rouge, St. Louis and then retired from radio. I worked in Alabama, where with my wife I started my own company. Today we own a chain of retail stores known as Autographs Plus, with our corporate office in Myrtle Beach, South Carolina. We live in Myrtle Beach in the summer and in Montgomery, Alabama, during the other nine months of the year. Our grandchildren are in Montgomery. In addition, I am a volunteer coach for a high school debate team in Celebration, Florida."
Mark Sebastian WKLO weekend and swing DJ in 1975 and 1976. He left 'KLO to work the graveyard shift at WHAS in April, 1976 as the local producer for the nationally syndicated "Herb Jepco Nightcap Show." Mark later worked at WAKY starting in the Fall of 1980 using his real name, Mark Strauss, eventually becoming WAKY's PD in the mid '80s. After WAKY he managed two small market stations, in South Jersey and Central Illinois, before leaving radio in 1990. Mark returned to WAKY 103.5 in March, 2009, as a sales rep and weekend/fill-in air talent.
Bob Shannon WKLO 12 noon-3:00 p.m. jock in 1968 and 1969. [Real name: Bob Johnson]
Bob writes on July 29, 2006:
"I'm happy to report that Bob Shannon is alive and well and still keeping his 'hand in the biz' and his face behind the mike as the Saturday morning news anchor at NewsTalk AM 580, WDBO, Orlando, Florida. I know this to be true, for I am he, now living and working under my real name, Bob Johnson.

"It seems like just a blink or so ago that I was part of one of the most incredible line-ups in broadcasting... From '68 through most of '69 it was Bill Bailey, Jack Sorbi, then me, then CTW (Carl Truman Wiglesworth – obviously a real name – who the hell would make that up?), Lee Gray, Al Risen and Bill Clark overnights.

"Of course, I'll never forget that group. How could I? We were amazingly well received by 'Derbytown' and were all together during one of the shortest fashion fads ever – the Nehru Jacket. I have the photo to prove it.
"I also used to have, but can no longer find, another special souvenir of my days in those 3rd. and Walnut 'Showcase Studios.' We all had name plaques made to show passers-by who was on the air. CTW (again, Wiglesworth – can you believe it?) had been named PD, replacing Mitch Michael who had gone to the 'big apple' and he decided I should be on the air as Shannon, dropping my first name. So, he called and ordered the plaque, telling the person he was placing the order with it was to say just plain Shannon. Yeah, you guessed it. The plaque came in and said exactly that... JUST PLAIN SHANNON!
"WKLO's General Manager back then, Ernie Gudridge did me one of the best favors anyone's ever done for me, although at the time I thought it was the cruelest thing anyone had ever done to me. He called me in one Friday afternoon and asked me to come to work the following Monday early in the morning and to wear a coat and tie. I asked why and he answered by telling me that as of that coming Monday, I was no longer on the air. I was being moved into sales. Can you imagine what that did to a 'personality's' fragile ego?

"Less than a year after that I was again privileged to be part of one of the most incredible teams in broadcasting. The sales team at 700, WLW in Cincinnati. The years I spent there were the most productive, financially, I'd ever experienced anywhere. Being linked to 'The Nation's Station', The Big Red Machine and the upstart Cincinnati Bengals was like living in a dream world for most of the '70s and the early '80s.

"My family and I moved to Orlando in 1984 and have been here most of the years since. My bride and I have four grown children and six grandchildren.

"By the way, I have to thank Ernie Gudridge for another milestone in my life. Prior to those good old days with the 'Duke of Louisville; and the rest of the 'KLO crew, Ernie hired me as the summer replacement at the Air Trails Station he was managing in Springfield, Ohio. This was in the summer of 1961. I'll always remember driving to Springfield for the interview with Mr. G. from my home town of Ashland, Ohio. When I got there, the receptionist told me that he wasn't in.

"I was shocked and a bit miffed. I said, 'But he has to be. I have an appointment with him.' The pretty young girl calmed me down, told me she was sure he would be right back, and offered me a soft drink. Sure enough, Mr. G. did show up, I had my interview and when I got back to my home in Ashland my mother asked me if I got the job. I told her, 'I don't know yet, but I met the girl I'm going to marry.' We'll celebrate our 45th. anniversary this October.

"My god, the memories. I hope this finds Bailey doing well, and that Reed Yadon (who used to talk about his Gracie a lot) and skinny Johnny Randolph remember me. I'll never forget any of them.

"October 3rd. will be my 66th. but don't get me anything more extravagant than what you sent last year. Ha-ha. Isn't broadcasting amazing?"
John Sharp WKLO newsperson. Went to WKLY-TV in the mid '60s. [Real name: John Sharfenberger] Died on August 31, 2005 at the age of 65. Allen Bryan says: "It was my pleasure to have worked with John. He also lived about two blocks from me, and went to the same church as our family in the mid '60s."
SCHARFENBERGER, JOHN G., 65, of Shelbyville, died Wednesday, August 31, 2005 at his home after complications from leukemia. John was a graduate of St. Xavier High School and Xavier University. He was employed as News Director for WLKY TV, Community Relations Director for Louisville Airport Authority, and Assistant Public Relations Director for University of Kentucky. John served as President of Louisville and Lexington Chapters of the Public Relations Society of America. John also served on the Parish Council of Annunciation Parish in Shelbyville, and was active or volunteered for a number of social service and non-profit organizations including Meals On Wheels and the Kentucky Catholic Conference. John was the son of John and Thelma Scharfenberger. He is succeeded in life by his wife, Lee; his children, Maria, John (Jennifer), Damon and Angela; sisters, Sr. Sue, OSU, and Gemma; a brother, David (Judith); two granddaughters, Joy and Fernanda; a niece, Emily; nephews, David, Joseph, and Joshua Cartlidge; aunts, Magdalene Scharfenberger and Jean Slusher; step-children, Laura Paul, Brian Huber (Jennifer), and Andy Huber; step-grandchildren, Mandy, Robbie and Brianna. His funeral Mass will be celebrated at 11:00 a.m. Saturday, September 3, 2005 at Annunciation Catholic Church, 105 Main St. in Shelbyville, with burial in Calvary cemetery. Visitation will be from noon-8 p.m. Friday, September 2, 2005 at Bosse Funeral Home, corner of Barret and Ellison Avenues. Memorial gifts may be made to the Thelma Scharfenberger Scholarship Fund, Ursuline Development Fund, and Hospice and Palliative Care of Louisville and Working In Neighborhoods.
Chuck Shramek WKLO newsman in the early '70s. After that, he went to Houston, doing news at several stations, the last one being KLOL-FM, where he did a "news of the weird" newscast on the morning show. He was also an amateur astronomer, and gained some notoriety in 1996 when he posted a photograph of the Hale-Bopp comet on the Internet, in which it appeared that there was a large, glowing object hovering in the comet's vicinity. Rumors quickly spread, the most popular one among UFO enthusiasts being that it was a huge spaceship. Chuck died of cancer at the age of 49 in 2000.
Farrell Smith WKLO midday jock around 1963-1964. Previously worked at WABC. Also worked at WAKY. Deceased.
Ike Smith WKLO newsman in the 1970s. Also worked at WAKY and WCII. Later radio work included News Director positions at WTTB in Vero Beach, Florida and KNUZ in Houston, Texas. Deceased.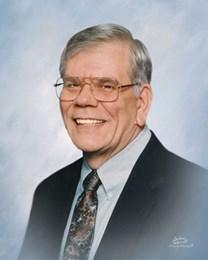 SMITH, ISAAC KEY "IKE," 64, of Louisville, passed away Sunday, March 9, 2014 at his home.
He was born June 28, 1949 in Madison, IN the son of Leslie Key Smith and Rose Dee (Pratt) Smith.
He was preceded in death by his parents and his wife of 39 years, Barbara Versaw Smith.
Ike was a 1967 graduate of Henry County High School and later went on to complete his Bachelor's degree at University of Louisville. He worked in Louisville area news radio for 25 years and was a member of Calvary Episcopal Church and The Sons of Confederate Veterans.
He leaves to cherish his memory a daughter, Jennifer Smith Sinclair; a son, Nathan Key Smith; a granddaughter, Adalyn Ellen Smith; and a sister, Lillian Ann Smith Arbogast (Al).
A service to celebrate Ike's life will be conducted at noon on Saturday, March 15, 2014 at Calvary Episcopal Church, 821 S. Fourth St. Visitation will be from 5-8 p.m. on Friday at Arch L. Heady & Son at Westport Village, 7410 Westport Rd.
In lieu of customary expressions, donations may be given to Calvary Episcopal Church or WHAS Crusade for Children.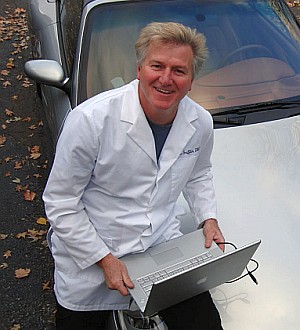 Gary Griffin in 2010
Jackson Smith WKLO jock in the 1970s. [Real Name: Gary Griffin] He's now a dentist at Your Shelbyville Dental Home in Shelbyville, Kentucky plus has a travel business.
Gary writes on November 28, 2010:
"Like a lot of people I banged around some small markets before I got the gig at KLO. I started there as a part-time weekender during the last of the 1974 AM glory days...just before the advent of and acceptance of FM radio (read: WLRS and the Superstars format) in Louisville. I worked there with production director Mike Rivers. After he left, Fleetwood Gruver took over production director duties. I made myself available doing on-air work whenever someone was sick or on vacation. By this time I was totally not interested in being an on-air talent. So, when Fleet took a job in Atlanta, I was given the production director title. I think I was always more of a manager type and, if I had stayed in the business, I would have gravitated toward programming, sales and management.

"As the last production director of WKLO/WCSN, I was in the room when John Page Otting, the new general manager, introduced E. Alvin Davis as our interim PD. This was a sales-only meeting, closed to the entire programming staff...but I considered myself more part of the sales team than programming. (I only pulled a Saturday midday air shift at the time.) I had sent E. an aircheck several years earlier when my good friend Gary Guthrie worked at WNOE in New Orleans with Gary Burbank et al. E. replied with a note telling me to 'get out of the business' while I still had a chance.
"At the meeting, E. read down a list of negatives associated with the call letters WKLO. He also said a decision had already been made to blow out the entire programming staff. I was pretty depressed at that moment knowing I had just heard that I was gonna be fired. After he was done, Dan Hymson (now deceased) a senior sales exec. asked E., "Well, is there anything good about this damn place?" E. replied, "Well, whoever is your production director, he is doing a good job...we're gonna keep him." I smiled and got a wink from Dan and my other sales friend Mike Horlander. So I became the first production director of WKJJ AM/FM.

"When I left for dental school I had been at that time I believe the longest lasting programming staffer in the station's history with 7 plus years.

"After I got my head around the first few weeks of dental school, C.C. Matthews and John Otting gave me a gig at WQMF. I did production, then part-time and all-night DJ work. I hated being on the air but really needed the money since dental school was terribly expensive.
"I really cherish the crazy memories and great people I had the opportunity to work with and meet. Working in this business and associating with the people I did afforded me many of the tools I use every day in my dental practice. Radio and dentistry are almost exactly similar: You are with one person at a time and it's all about relationships and loyalties."
Mike Smith WKLO early afternoon jock and Production Director circa 1970. Also worked at WAKY. Believed to now be in Memphis working at an advertising agency. Do you know where he is today?
Shirley Smith Newsperson in the late '70s. In recent years she's been heard her on national news feeds. Now lives in Washington, D.C. Delivered the last UPI Radio newscast in 1999. Dave White reports: "Shirley now works for AP Radio News. I had the pleasure of working with her on the 'KLO news staff during my third and last stint there, 1975-77, and participating with her in a weekly poker game that also included Bill Love, Fleetwood Gruver, and Tom Foerster, who was also on the news staff at that time."
Jack Sorbi WKLO jock in the late 1960s. Air Force veteran who attended Florida State University. He previously worked for WQAM, KIMN and WITH. Left WKLO for Indianapolis. Later went into sales and general management. Deceased. Jack's daughter Joanna writes: "Dad passed away from cancer in September of 2008. He was always working doing freelance and continuing to use his talent and personality to do sales and marketing for local non-profits like the Chamber and some political groups; however, semi-retirement allowed him to travel a bit more with Mum. Their last trip was touring Italy. We were with him at home where he kept his sense of humor until the end. He is dearly missed but we think probably doing talk radio in the sky!" Allen Bryan adds: "He and I were good buddies in those days. We both used to finish our air shifts at noon and then go to lunch together. We would normally eat at the Blue Boar cafeteria on Walnut about a block from the station. Jack was a great guy."
Jack Sorbi (John T. Jr.) died September 18, 2008. Jack was born in Miami, Florida in March of 1937. He served in the United States Air Force, finding his passion for broadcasting through the Armed Forces Radio and Television Network as a radio and television newscaster. After leaving the air force in the 60's, he continued in radio and television as a disk jockey and later in broadcast media sales and in sales and station management.

Jack served on the boards of many charitable organizations, most notably St. Jude's Hospital for Children in Indianapolis and Reading Services for the Blind; and most recently with the Literacy Volunteers of Montgomery County. On moving to Texas in 1994, he was employed by Metro Networks, K-Star Radio and in retirement, Quanah Productions as well as the Chamber of Commerce.

Jack's family was the center of his life; he was a most devoted husband to Jane for more than 41 years and father to Joanna Elizabeth of Raleigh, North Carolina and Melissa Anne, of Houston, Texas.

Services will be held at Saint John's Church, on Saturday, September 27th at 11 a.m. In lieu of flowers, memorials may be made to Saint John's Church, 2615 Saint Beulah Chapel Road, Montgomery, Texas 77316 or to the Literacy Volunteers of America, at P. O. Box 2704, Conroe, Texas 77305.
Barry Steiger Newsperson in the late '70s. Barry writes: "I worked at WKLO/WCSN from December 1977 through October 1978. I worked as early morning voice on the otherwise automated 'beautiful music' station WCSN-FM (appropriately located in the dungeon) and I did the 9-noon news on WKLO-AM. Prior to those dates, I worked at WHAS as a commentator and then as an overnight announcer; and at WAVE as weekend radio anchor. After leaving WKLO, I subsequently moved to New York City, where I established myself as a stand-up comedian, appearing on such shows as Joan Rivers and Arsenio Hall. I later moved to Los Angeles, where I eventually landed a role on 'Grace Under Fire,' and toured with the show's star, Brett Butler. I also established Los Angeles' first gay and lesbian comedy show at the legendary Comedy Store. A karmic quirk brought me back to Louisville in September, 2004."
Chuck Stevens WKLO DJ in the early '70s. Joined the station in late 1971 from KLEO, Wichita, Kansas. Deceased.
Don St. John Good-sounding overnight jock in the '70s that worked at the University of Louisville as an Electronic Tech. Previously on WLOU and WSTM. Went on to work at WKJJ, WNUU, WRKA and WHAS (as the engineer for the Milton Metz show). [Real Name: Robert Davis] Do you know where he is today?
Mark St. Matthews WKLO 10 p.m.-1 a.m. jock in the late '60s. He did the regular WKLO format till midnight, then at 12 it was an hour of acid rock as "WKLO Goes Underground." [Real name: Tom Brown]
Mark/Tom writes on May 24, 2006:
"Hard to believe it's been nearly 40 years since I sped around the Fairgrounds Speedway on a tricycle. I believe Dick Braun presented me the trophy pictured here, after I sped past Bill Bailey and Carl Truman Wiglesworth. Great fun with wonderful people.
"When I left WKLO I moved to New York City where I lived until May 1975 working as an actor in commercials with an occasional bit on 'Search For Tomorrow.' If you don't blink you'll see me dressed as a cop sitting behind Al Pacino in the opening graduation scene of 'Serpico.' Part of the 'New York actor gig' included driving a cab, waiting tables and tending bar at the cabaret Reno Sweeny.

"I moved to Grant County Kentucky in 1975, became a tobacco and cattle farmer, and continued working as an on-camera and voice talent in hundreds of commercials and industrials. I am a member of the Screen Actors Guild, and served eight years as a board member for the Tri-state local of the American Federation of Television and Radio Artists.

"Currently I am producing a documentary about my long time friend, Kentucky artist William Petrie, 'In Dreams Awake' in collaboration with House of Commons Films in Lexington. Look for the show in September 2006.

"I continue to make my home in the country at the Madwillow Creekhouse, which I built with the help of friends and neighbors in the mid '80s.
"I am still working in radio. I am the voice of Red Barn Radio, a weekly syndicated show featuring Kentucky musicians and song writers recorded live at Art's Place in Lexington.

"I am very grateful to have been a very small part of the broadcast history made by WKLO and WAKY. Thanks for these tribute Web sites."
Jonathan Stone WKLO jock in the early '70s from the Bowling Green, Kentucky area. Also known as Johnny Dark at WAKY. [Real name: Harold Hines] Deceased.
Note to Jonathan Stone from Bill Hennes
Letter about Jonathan Stone and J.J. Wright
WKLO
Jerry Hines, Jonathan's brother, writes on July 11, 2005:
"Here's a summary of Harold's broadcast career. It may be that the dates are a little off. It was difficult to construct since he didn't always show dates on his resume. The sequence is correct however. There are a couple of times when he quickly changed to another station when the format changed, the station was bought out, etc. He spent 19 years full-time in the business.
Jonathan Stone (Harold Hines) Broadcast Career
WLBJ, Bowling Green, KY: Night Jock – 1961 or 1962
Channel 13, Bowling Green, KY: News and Weather
WBGN, Bowling Green, KY: Afternoon Drive
WAKY, Louisville, KY: "Johnny Dark" - Night Jock
WKEE, Huntington, WV: PD (Also appeared on TV there at the same time under a different name as the weather talent)
WLEE, Richmond, VA: "Jeff Lee"
WTTO, Toledo, OH: "Jeff Lee"
WGOW, Chattanooga, TN: "Jeff Lee" - Jock/Production Director
WIRL - Peoria, IL: 1970-71 "Jeff Lee" - Jock/Music Director
WKLO, Louisville, KY: 1971-73 "Jonathan Stone" - Jock
WHK, Cleveland, OH: 1973-74 "Jonathan Stone" - Jock
WGST, Atlanta, GA: 1974-75 "Jonathan Stone" - Jock - Music Director, PD
CKLW, Windsor-Detroit: (1976) "Jonathan Stone" - Vacation-Relief Jock
Moved back to Atlanta: (1977) Freelance voiceover talent (commercials and narrations)
WQXI, Atlanta, GA: "Jonathan Stone" - Weekend and Vacation-Relief Jock
WZGC "Z-93," Atlanta, GA: "Jonathan Stone" - Vacation-Relief Jock - Morning Drive
WKLS "Kicks Country," Atlanta, GA: "Jonathan Stone" - Part-time, Weekend Jock
Elkins Institute, Atlanta, GA: (1977-1980) Instructor - Chief Licensing Instructor
"After leaving WKLO for WHK in Cleveland (which Bill Hennes noted in his interview on the WKLO site) Harold kept the name 'Jonathan Stone' for the rest of his career. He was always the optimist and moved back to Atlanta after working for Bill at CKLW as a part-time and vacation-relief jock to be a major voiceover talent, competing with 'The Voice,' Greg Oliver for work. Greg won the Addy for Alka-Seltzer and did many other national commercials.

"Finding it was not a full-time gig back then, he supplemented his income by working part time at several stations and became an Instructor at Elkins Institute teaching for first phone licenses, etc. while doing voiceover work which he continued almost to the end. After his instructor days were over with the closing of Elkins, he went into business and even ended up in Africa as a consultant. He passed away in September 2002 due to cancer which he battled for a couple of years. He had been working on a broadcast textbook but never finished it."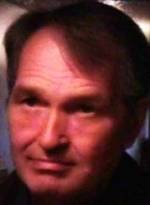 Carl Strandell (May 2007)
Carl Strandell WKLO jock 1968-1971. Previously worked at WQAM in Miami, Florida; WAPE in Jacksonville, Florida; WIRK in West Palm Beach, Florida; and KIMN in Denver, Colorado. Later worked for WBBF in Rochester, New York; WYND in Sarasota, Florida; WGUY in Bangor, Maine; and WQMV in Jackson, Mississppi. Now with CVS Radio Brokerage, and is the General Manager of WSTZ-FM in Vicksburg, Mississippi.
Carl Strandell writes:
"I worked at KLO from '68-'71 and primarily the night shift (hours changed from 6-10, 7-Mid, 10-2). The line-up that comes to mind was Bill Bailey, Dick Braun, Jack Sorbi, Carl Truman Wiglesworth (the PD), Jim Rivers, myself, Dave Carson and Joe ( Luebbe) London. Over the years there were others: Al Risen, Montgomery Hogg, Lee Gray, etc.

"I arrived not long after CTW had become PD. Both off and on-air the person I remember most was Bailey. I was with him (at Kev's) the night WAKY made him the offer (long story). The last time I saw Bailey, he was in town (but working at WLS). He phoned so we could meet up. While we were drinking, he went over to the pay phone and called WLS to tell him that he couldn't make it in that Monday morning (perhaps snowed in...does it snow in Louisville?).
"What I recall most from the night shift was the 'crystal ball.' I'd make these high school football predictions (through the magical crystal ball) and nearly every night there would be groups of cheerleaders, bands, football players banging on the showcase window -- it was pretty exciting. I'd have to attend pep rallies and often had to sit one half of the game on one school's side then on the other side. I do remember several student bodies cheering, 'Go to hell Strandell, go to hell...' especially when the crystal ball was wrong and they were winning! It was such a big promotion that when people went by the [showcase] studio the first thing they would see would be the school banners, pom-poms, and of course The Crystal Ball.

"When I left WKLO I went to work at WPOM in West Palm Beach and a short while later I joined WBBF (Rochester, NY) where Jim Rivers (former afternoon jock at KLO) was the PD. Jim later went on the get his masters degree and I became the PD of WBBF, owned by LIN, who also owned WAKY. Interesting time."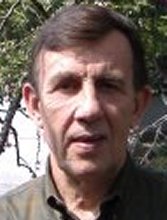 Dave Jacob Straub (2006)
Dave Jacob Straub WKLO newsman 1977-1978. Previously worked as a part-time WAKY newsman as "Dave Jacob" circa 1973 while Program Director at WSAC in Fort Knox. Left WKLO to do news at Atlanta's WSB.
Dave Straub writes:
"I did so much 'stringer' news at WSB for NBC during the Carter Administration, I went with them full time. Then later, Len King, I and a few other veterans worked to create the CNN Radio News Network format and I anchored there for several years. Finally, I worked in management in radio and TV until I retired and started my own business in 1995.

"Today, I am CEO of APSI (Alternate Power Systems, Inc.), a solar/wind/renewable energy company based in Atlanta and doing business worldwide."
Jon Summers WKLO jock 1967-1968. Left the station in early 1968 to do 10 a.m. - 1 p.m. at WSAI in Cincinnati. Now mornings at adult standards WECK and voice of WKBW-TV, Channel 7 (also starring in AM Buffalo) in Buffalo, New York.

Bill Taylor WKLO DJ circa 1973. Left WKLO for KHJ in Los Angeles. Later worked at several stations in Chicago including WCFL, WDHF, WBBM-FM and WMAQ. Later known as Bill Fortune. [Real name: Bill Bussiere] Now lives in Palatine, Illinois, a Northwest suburb of Chicago.
Bill Taylor writes:
"I worked at WKLO from about January-July of 1973. I may be slightly off with the months, but certainly not much. I was working at KSLQ in St. Louis when Bill Hennes hired me for afternoons that winter, and during the months that ensued, he went to program CKLW. Shortly thereafter, I left to go to KHJ. During this era, I was using the name 'Bill Taylor.'

"I remember the radio battle that spring. The famous 'Secretariat' won the Kentucky Derby, and 'Horse With No Name' (which was out the year before) was being played on WKLO as a recurrent. I may have started something at the station when I said, 'The horse now has a name.' I heard my fellow jocks say similar things until the excitement of the Derby finally simmered down, which took several days. Though we may have been just a bit stilted, I think we sounded much better than WAKY at the time, and the Spring 1973 book proved it with some of the best numbers WKLO ever had against WAKY. I don't remember the exact numbers, but I remember we had invaded and beat them in many dayparts that they had previously 'owned.'

"WKLO was one of the very few stations where the sales people and jocks had a camaraderie. I wish I could remember some of their names, and the name of the GSM. I do remember some of the news staff, which included Julian Mouton, Ty Meredith and (fellow coffee drinker) Dave White. It was strictly top notch and a better news staff than many stations in larger markets like Cincinnati or St. Louis.

"I played 'Smoke On The Water' many times during my radio career, but playing it as a current on WKLO still holds truly special memories of what great radio could be.
"The last five years, I've been a voice outsource for radio stations doing image and production. I worked in Chicago radio for quite a long time, as well as 7 years at Satellite Music Network. The last actual radio station I worked at was WMAQ. I was there when they closed in the summer of 2000. I have almost no desire to be on the air again. Radio sucks big time."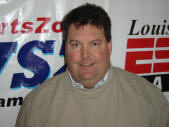 Scott Thompson (2005)
Scott Thompson Gary Major reports that Scott was "part time jock, part time sports guy...full time high school student and full time son of General Manager Bernie Thompson. He was part of the other shoe falling...and in 2005 is in process of buying WWSZ in Louisville. Congratulations Scott! (He 'sold out' and went into sales in Oklahoma.)" Scott indeed did become General Manager and partner at WWSZ and two other stations, as well as the host of the WSZ PM drive show. He passed away on July 8, 2006 at the age of 45.
J. Paul Townsend WKLO newsperson who was also a professional photographer. Born in Louisville. Also worked in TV and in air-freight. Lived many years in Savannah, Georgia. Died August 24, 2007 at the age of 62 due to cancer. [Real name: Ron Gruniesen]
Lynn Townsend WKLO night DJ in the late '60s. [Real name: Dennis Day] Former WAKY Production Director Mike Griffin writes: "He and I had worked together at WREY in New Albany. (Mike Cunningham, newsman from WAKY, and Bob Jansen DJ/Production at WAKY, also spent time at WREY.) When I came to WREY in 1968 Dennis was a senior and doing afternoons starting as soon as he could get there from school. (He was Denny Lynn at WREY.) His dad was chief of police in Clarksville. I quit WREY for a time and Dennis left while I was gone. Then he turned up on WKLO and I called him. Dennis gave me my first tour of the WKLO showcase studio when he was there. I don't think he stayed long. I ran into him again around 1990 in Cleveland. He was doing afternoons on an oldies station (I don't remember the call letters.) We were going to get together again when I made it back to Cleveland...but work didn't take me there again for another 12 years." Died on March 16, 2015.
OBITUARY
Dennis L. Day of Hardinsburg, KY died March 16, 2015 at Hardin Memorial Hospital. He was born in Clarksville, IN on September 26, 1950, the son of William "Bill" Day and Kathleen Day.

He was preceded in death by his parents and his sister Wilda "Peachy" Hendricks.

Dennis is survived by his son Jason Thomas Day, 1 niece and 1 nephew

Dennis began broadcasting at the age of 16 and continued that successful career working in radio stations in major markets including Louisville, Cincinnati, Chicago, Cleveland, Philadelphia, San Francisco, New Orleans, Charlotte and finally in 1992 helped establish WXBC in Hardinsburg, KY where he was employed until his death.

He was a member of Hardinsburg United Methodist Church.

There will be a private memorial service.

Expressions of sympathy are requested to the Hardinsburg United Methodist Church.
Jack Thurston WKLO part-time newsperson in the 1960s and 70s. [Real name: Jack Meisburg] Along with his radio work, he was a longtime teacher and administrator in the Louisville (and later Jefferson County) public schools. Meisburg officially retired from the school system in 1980 but as of early 2011, teaches history part time through a Jefferson County Public Schools online education program. Former WKLO News Director Allen Bryan says, "Jack was an incredibly professional and dependable part-time newsman who worked weekends for a number of years at WKLO. I don't remember him ever missing a scheduled shift." Died March 11, 2015 at the age of 94.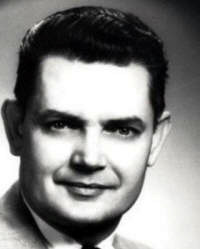 Meisburg, John M. "Jack" Sr., 94, passed away at Treyton Oak Towers in Louisville on March 11, 2015.

Jack was born in Louisville on January 4, 1921 and had a long career in Louisville as an educator. He served as principal of five elementary schools in downtown Louisville and as Assistant Superintendent of both the Louisville and Jefferson County Public Schools.

In the Louisville schools, he was a teacher, principal, director and Assistant Superintendent for Instruction. (1948 - 1974) He was the first director of the Louisville Head Start Program in the summer of 1965 and also headed other federal programs in Louisville, including the federal Title I Program.

When the Louisville and Jefferson County school systems were merged in 1974, he became Assistant Superintendent of the Jefferson County Public Schools. He retired from the Jefferson County Public Schools in 1980. During his career Jack also served as adjunct faculty in political science and education at the University of Louisville, Jefferson Community College and Georgetown College.
All of the Louisville schools Jack served as principal are now closed. He headed the Mary D. Hill and George D. Prentice schools at the same time and then headed the George Morris and Frederick Douglass schools. Morris and Douglass were segregated schools that were brought together in 1961 in a new integrated school (Omer Carmichael) at Hancock and (then) Walnut Streets. Jack was the school's first principal. In 1962 Carmichael School enrolled over 900 pupils. The student body and the staff were evenly integrated, 50% white and 50% African American and this neighborhood school attracted the attention of journalists from other countries who visited the school. (In 1956, the Louisville Public School system was honored by the Freedoms Foundation for the peaceful integration of its schools.)

Jack was always active in the work of professional associations. He served as President of the Louisville Education Association (LEA). During his term as President in 1965, the LEA sponsored the historic law suit (Russman v. Luckett) which forced the state of Kentucky to assess property at fair cash value. This action resulted in dependable, continuing financial support for all school districts in the state.

The Louisville Education Association came of age as a professional union during Jack's term as president. The Association, supported by the National Education Association (NEA), employed Kentucky's first full time Executive Secretary of a teacher association. (Rodney VanZant) This marked the beginning of professional negotiations with the Board of Education on matters of salaries and working conditions. Jack was a Life Member of the National Education Association and the National Association of Elementary School Principals.

Jack was a graduate of Male High School (1938) and a member of the Male High School Hall of Fame. A graduate of the University of Louisville, he earned the BA in 1948 and MA in 1951. Later he did graduate work at Indiana University and the University of Kentucky. At U of L, before World War II, he was president of his class, sports editor of The Cardinal and a member of the "L" Club. (Baseball).
An Army veteran of World War II, Jack served as an officer in the Chemical Warfare Service and as an Information and Education Officer. After the war, he served as an officer in the Kentucky National Guard (138th Field Artillery) and in the Army Reserve, as a Plans and Training Officer. He retired in 1981 with the rank of Major. He was a Charter Life Member of the Military Officers Association of America.

Radio news broadcasting was Jack's avocation. While teaching history and journalism at duPont Manual High School in the 1950s, he wrote and produced a weekly news program that was heard in Louisville and Jefferson County classrooms on WFPL-FM. This program was nominated by the Louisville Public Schools for a Freedoms Foundation award. When he was a teacher, he also worked part time for WKLO and other local stations as an announcer and news editor. As a newsman at WKLO he used the name, Jack Thurston.

Following his retirement from the Jefferson County Public Schools, he worked for the City of Louisville. Mayor Harvey Sloane appointed him to give direction to the City's federally supported Summer Youth Employment Programs of 1984 and 1985. When Jerry Abramson became Mayor, Jack was assigned to the staff of the City's Private Industry Council where he prepared job training contracts with Louisville training providers under the federal Job Training Partnership Act.

In recent years, Jack came out of retirement again to work part time for the Jefferson County Public Schools as a course developer, writing and teaching courses for the school district's new eSchool. His courses in Government and History were presented on line as part of the district's "school on the internet."
Jack was a member of Walnut Street Baptist Church. Previously, at Bethany Baptist Church, he served as a Sunday School teacher, Chairman of the Board of Deacons and Church Moderator. He was also a member of the U of L University Club and the Lakeside Swim Club.

Jack was preceded in death by his wife of 59 years, Marion Lucas Meisburg.

He is survived by his three children, John M. Meisburg Jr. (Denise), a federal Judge in Jacksonville, FL; Suzanne Radermacher (Tom), a counselor in the schools of Virginia Beach, VA, and Bradley T. Meisburg (Betty), an electrical engineer and Director of Technology at Alpharetta First United Methodist Church in Alpharetta, GA. He is also survived by 11 grandchildren; and eight great- grandchildren.

Visitation with the family will be held from 4-7 p.m. Sunday, March 15, 2015 at Highland's Funeral Home, 3331 Taylorsville Rd, Louisville, KY, 40205. A service to celebrate his life will be held at 10 a.m. Monday, March 16, 2015 at Walnut Street Baptist Church, 1101 S 3rd St, Louisville, KY, 40203.



Robin Walker WKLO PD who succeeded Bill Hennes in 1973, coming from WIRL in Peoria, Illinois. [Real name: Bob Franklin] Tad Murray reports that Robin/Bob lives around LaGrange, Kentucky where he owns and trains quarter horses.
Steve Warren Worked at WKLO in 1963 managing the station's Summer Fun Festival promotion in a 4th Street storefront, as well as doing some part-time DJ and board op duties. Also worked at WTMT in Louisville. Went on to a long on-air and programming career that included several major market stations. Now lives in New York City where he hosts the nationally syndicated Country Oldies Show. He is also Executive Producer of China America Radio, a 24/7 streaming Internet station devoted to Chinese-Pop contemporary music. Steve Warren Audio Interview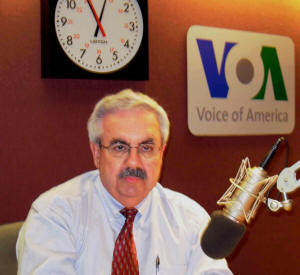 Robert Paul Westpheling (2007)
Robert Paul Westpheling Newsman in 1970 and 1971. Worked for WVLK in Lexington, Kentucky for a brief time in late 1972. Now goes by Paul Westpheling and was an on-air reporter at the Voice of America in Washington, DC for over 25 years, retiring on June 28, 2013.
Paul Westpheling writes on April 2, 2006:
"I worked in Louisville in 1970 and 1971 then went to Detroit to work for WCAR for six months. It was a very good rocker. After that, the resume begins to resemble a road map of the United States with jobs in Honolulu and San Jose. I wound up in 1978 at the NBC O&O in San Francisco (KNBR) for three terrific years...moved to New York for a tour at ABC Radio, NBC Radio, The Wall Street Journal radio network and finally with UPI Radio.

"In March, 1988, I stumbled into the offices of the Voice of America here in Washington and have been here ever since, mainly as an international radio broadcaster specializing in business and economics news."
Dave White Did three tours as a WKLO newsperson between 1968 and 1977. Dave White's Classic Rock Website
Dave White writes on July 1, 2005:
"I first went to WKLO in the summer of 1968. Allen Bryan hired me as the night news guy (6 - midnight). My only experience had been at a tiny station in a tiny town in eastern Kentucky (WIRV in Irvine) and here I was working in a "big city" newsroom (there were nine people on the news staff at the time!), with Lee Gray on the other side of the window!

"This was a part-time job, and I left in the spring of 1969 because I needed fulltime work. I returned in 1972 (from WLAP), hired by Ty Meredith, who was then the News Director. Bill Hennes was PD at the time, and after I finished my first newscast, he strolled into the newsroom and informed me that I 'didn't sound mean enough!' I did afternoon drive news until 1974, when I had the opportunity to start up the news department at WKEE in Huntington, WV.

"A year later, I came back to WKLO a THIRD time, hired by Eileen Douglas, my former co-worker who was now one of the country's first female news directors. When she left to go to WINS, I became News Director, and remained until 1977 when I left (for the last time) and started working in TV news.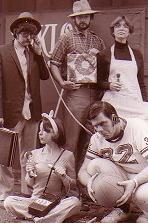 This photo was used on the WKLO News Department Christmas card in 1976, and shows the news staff at that time: Standing, L-R, Dave White, Tom Foerster, Jody Hein.
Seated: L-R, Shirley Smith, Ike Smith (no relation).
"I worked in TV news until 1986, then in TV promotion, then in syndicated program production until 1998. Since then, I have been self-employed in Web development and design, teaching online courses in writing and editing Web content, and doing freelance writing of all kinds. I moved to Nashville in 1993, where I still happily reside.

"Without a doubt, WKLO provided the greatest radio experience of my career. Some extremely talented people worked behind that 'showcase window' at 307 West Walnut Street, and I consider it an honor to have known and worked with many of them."
Carl Truman Wiglesworth WKLO afternoon drive jock starting in 1966. Became Program Director after Terrell Metheny (Mitch Michael) left in 1968. Previously worked in Middletown, Ohio and Syracuse, New York. After WKLO, Wiglesworth did a stint as PD of KIMN, Denver, before moving to San Antonio where he enjoyed a long talk show hosting career. Inducted into the Texas Radio Hall of Fame in 2004. Last radio gig was 3 p.m. - 6 p.m. at 1310 KAHL in San Antonio. Died July 1, 2014 at the age of 73 after suffering a massive heart attack.
Wild Willy WKLO night jock 1966-1967. Previously worked at several Michigan stations including WJEF in Grand Rapids, WIMB in Jackson, and WTRX and WTAC in Flint. Later returned to WKLO as Program Director (1971-1973). Left WKLO to be PD of CKLW in Windsor-Detroit. Became a program consultant in 1981. Bill was the owner and founder of AllAboutCountry.com, which he ran from his home in Wilmington, North Carolina. He now lives in Pompano Beach, Florida where his is running his own program consulting company. [Real Name: Bill Hennes]
Bill Wilder WKLO part-time newsperson in the early '70s. Bill is probably better known as the evening voice (6 pm-midnight) on WVEZ-FM in their beautiful music days, while simultaneously working at the US Postal Service. Last known to be retired from both radio and the USPS. Do you know where he is today?
Johnny Williams WKLO DJ circa 1973. Was T. Terry McRight at WVLK in Lexington, KY before he came to WKLO. Do you know where he is today?
J.J. Wright WKLO jock between the Fall of '71 and October '73. Previously worked at WBGN in Bowling Green, Kentucky. Left Louisville for a long radio career in Boston, including stints at WRKO, WCOZ, WBOX, WXKS and WROR. Also did PM drive at WODS in Boston. [Real Name: Leroy Wright]
J.J. Wright writes on February 7, 2008:
"When I was in high school (St. X class of '69), I favored WAKY. And a few years later after landing my first on-air gig in Bowling Green, while at Western Kentucky University and once I had gotten the DJ bug, I wanted to come back home to work at my favorite station.

"I was lucky enough to get Johnny Randolph to listen to my aircheck. He told me that I wasn't ready for the big time yet. So that same week, I met with Bill Hennes over at WKLO, and he hired me right then and there on the spot.

"And the rest they say, is history. Less then two years later, I'm in Boston!"


Reed Yadon Newsman in the 1960s. Now a weatherman at WHAS-TV as well as the communications director for the Archdiocese of Louisville.